Do you have tummy issues? I'm talking about bloating, feeling uneasy, or even feeling really heavy or backed up? We know, it's not the cutest topic ...but the truth is that your body is TALKING to you...all of these are SIGNS that your body isn't feeling its' best.
Rejuvenate and cleanse with our simple, 30 Day Detox Program. Nourish your body with our prebiotic and probiotic powder, Gut Love to help maintain a healthy, happy gut!
What's included:
Teami Colon

Teami Skinny
30 Day Detox Calendar
Gut Love
Tumbler
30 Day Detox: Our detox program even comes with a cute calendar that you can use to track your progress throughout the 30 days! Make sure to tag us in your posts @teamiblends so we can support you along the journey!
Gut Love: Teami Gut Love is a shelf-stable Probiotics Prebiotics supplement to support belly balance, gut health, and overall inner wellness! Each serving contains seven different strains and 20 billion probiotics.
Probiotics are living microorganisms – known as "beneficial bacteria" – that support regular digestion, feelings of bloat, and promote well-being from the inside out!
Regular Price: $127
Bundle Price: $119.99
You Save: $7!
Teami Skinny Tea:
Oolong, Yerba Mate, Lime leaf Extract, Lotus leaf, Ginger Root & Rhubarb Root.
Teami Colon Cleanse Tea:
Senna Leaf & Root, Hawthorn Berry Extract, Lotus Leaf, Lime Leaf & Extract, Psyllium Husk Seed, Phaseolus Calcaratus Seed, Rhubarb Root, Poria Cocos Stem Bark &Valerian Root.
Gut Love
Contains seven different strains and 20 billion probiotics!
Lactococcus lactis, Bacillus subtilis DE11, Lactobacillus paracasei, Lactobacillus plantarum, Lactobacillus acidophilus, Lactobacillus rhamnosus, Lactobacillus casei
30 Day Detox:

Step 1) Drink your Teami Skinny every morning, recommended before breakfast

*Forgot to drink your Teami Skinny in the morning? Don't Stress! Just drink it as early as you can!

Step 2) Drink your Teami Colon every other night before bed

*Steep for 1-5 minutes in hot water then remove from mug. Gradually increase your steep time throughout your 30 Day Detox Program!
Gut Love:

Mix 1 scoop (7g) with water or a smoothie daily! Consume any time of day, but best recommended just before or with a meal!

*Store in a cool, dry place below 77 degrees Fahrenheit. Refrigeration is not required.
Recommended for adults only. If you are taking prescription medication, or are pregnant or nursing, consult your health care provider prior to using this product. Every individual has their own medical and physical conditions, therefore we can not foresee any adverse reactions to our All-Natural blends.
Contains plant-based caffeine.
Results not guaranteed and may vary from person to person.
These statements have not been evaluated by the Food and Drug Administration. This product is not intended to diagnose, treat, cure, or prevent any disease.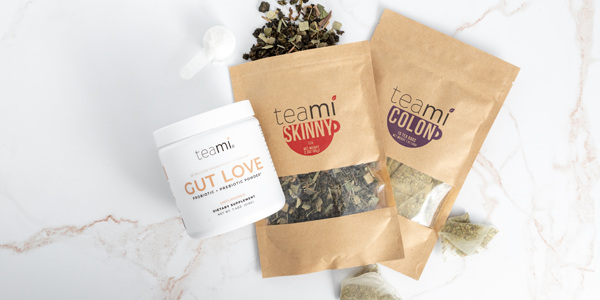 Gut Love
Great for digestion and energy
Best sh!t EVER! Literally
I've used the detox tea combo previously, but when I just had a recent surgery it was time to reorder! I purchased during a special of skinny tea, Colon tea, and the gut love probiotic. I tried 3 different stool softeners prior to purchasing from teami again. I am telling you this is a 100% guarantee product! You do not get that sudden sensation that causes you to start sweating and sprint to the nearest bathroom. It's even manageable to take during a work day. You can go out shopping. If you need to get regular get Teami!!!!
Great Product
After taking the skinny tea and priobiotic for a week I have felt so much better and started seeing results. Im so excited to try there other products
Subscribe to our Newsletter
Subscribe to our newsletter and get 10% off your first purchase
IT'S NOT JUST
TEA

, IT'S A LIFESTYLE