Ready to feel unstoppable this season?! This is the ultimate bundle for all things health + wellness! No matter where you're at on your wellness journey- this pack can help you feel the happiest, healthiest version of YOU!
Rejuvenate and cleanse with our simple, 30 Day Detox Program and feed your body with all the green fuel it needs with our powerful Superfood Greens powder! 
What's Included:
Green Superfood Powder
30 Day Detox Program
20 oz tumbler (choice of color)
Tea infuser (choice of color)
Teami Greens:
Packed with 16 superfood, green nutrients to help promote energy levels, get your daily intake of veggies, and promote digestive and overall health!   
As always, this Superfood Greens Powder is naturally sourced, full of only the highest quality ingredients, and quality controlled to assure we create the perfect batch, every time! 
30 Day Detox:
Our detox program even comes with a cute calendar that you can use to track your progress throughout the 30 days! Make sure to tag us in your posts @teamiblends so we can support you along the journey! 
Teami Greens:
Matcha Powder, Wheatgrass, Spirulina, Chlorella, Chlorophyll, Spinach Leaf Powder, Broccoli Powder, Acai Berry, Kale Powder, Kelp Powder, Rocket Leaf Powder, Parsley Powder, Celery Powder, Garcinia Cambogia Extract, Danedlion Extract & Grape Seed Extract
Detox Pack:
Oolong, Yerba Mate, Lime leaf Extract, Lotus leaf, Ginger, Root & Rhubarb Root.
Teami Colon Cleanse Tea:
Senna Leaf & Root, Hawthorn Berry Extract, Lotus Leaf, Lime Leaf & Extract, Psyllium Husk Seed, Phaseolus Calcaratus Seed, Rhubarb Root, Poria Cocos Stem Bark & Valerian Root.
Step 1) Drink your Teami Skinny every morning, recommended before breakfast
*Forgot to drink your Teami Skinny in the morning? Don't Stress! Just drink it as early as you can!
Step 2) Drink your Teami Colon every other night before bed
*Steep for 1-5 minutes in hot water then remove from mug. Gradually increase your steep time throughout your 30 Day Detox Program!
Recommended for adults only. If you are taking prescription medication, or are pregnant or nursing, consult your health care provider prior to using this product. Every individual has their own medical and physical conditions, therefore we can not foresee any adverse reactions to our All-Natural blends.
Contains plant-based caffeine.
Results not guaranteed and may vary from person to person.
These statements have not been evaluated by the Food and Drug Administration. This product is not intended to diagnose, treat, cure, or prevent any disease.
Started out skeptical but...
I've been doing the Detox for a year now, I do it every other month, and I must say I started out skeptical about how much this duo could do. But after the first week of using it i fell in love. I noticed that the Skinny tea was giving me steady energy through out the day with out feeling like I need it the 2 o'clock nap. The Colon tea was another surprise for me, if you read the directions it says to steep for 1 to 5 min if it's your first time. Well I left it to steep till it cooled down a bit so about 10 min & let me tell you I woke up that night 3 times to the bathroom. This duo has made a huge difference when it comes to my gut health & I'm thankful I can across Teami!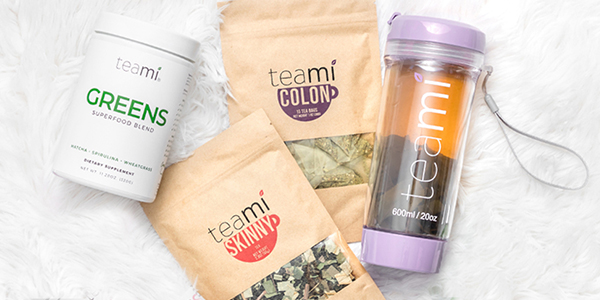 Subscribe to our Newsletter
Subscribe to our newsletter and get 10% off your first purchase
IT'S NOT JUST
TEA

, IT'S A LIFESTYLE