Beauty Butterfly Collagen
Beauty Butterfly Collagen
Create SuperBeauty Smoothies with Collagen!
Our Teami Beauty Butterfly Collagen is premium-select grade collagen, sourced exclusively from the scales of sustainable, wild-caught codfish. Fish scales are a very pure, clean, abundant source of collagen.
Give every smoothie a beauty boost by adding 1 scoop of our Beauty Butterfly Collagen! Marine Collagen is amazing on its own for overall beauty support, but we wanted to go a step further. We blended two complementary antioxidant ingredients with our wild-caught marine collagen to make our powerful beauty collagen formula!
3 Ingredient Beautifying Formulation
NON-GMO Wild Caught Marine Collagen exclusively from Codfish Scales
Antioxidant Bursting Acai Berry 
Butterfly Pea Flower rich in polyphenols
Benefits
Collagen is a great source of amino acids, which are required for healthy hair, skin, and nails



Feel strong + glowing from the inside out!
Bioavailable: digested and absorbed quickly by the body for best results
10g pure marine collagen in every scoop
Create SuperBeauty Smoothies with Collagen
20 Servings per container.
colageno
Wild Caught Marine Collagen from Codfish, Butterfly Pea Flower, Acai Berry
Beauty Butterfly Collagen is best used as a smoothie superfood supplement! Add 1 scoop to your favorite smoothie or smoothie bowl and enjoy the collagen boost!
Important: Wild Caught Marine Collagen is a pure source of marine collagen and can have a fish-like smell and taste.
Our Beauty Butterfly Collagen can be mixed with coffee, tea and water but we recommend that you use it as a smoothie superfood supplement as that is what we created it for!
We do not recommend drinking our collagen with just water. It must be added to other ingredients in order to blend best!
If you are taking prescription medication, or are pregnant or nursing, consult your health care provider prior to using this product.

*These statements have not been evaluated by the Food and Drug Administration.

This product is not intended to diagnose, treat, cure, or prevent any disease.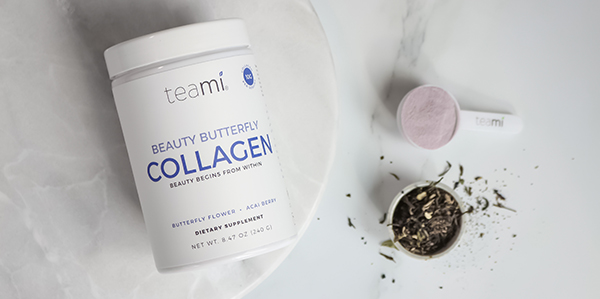 Great products
I really enjoy all their products from skin care to detox teas
My morning ritual
Teami greens and gut love are my morning ritual. Love them together!
Teami is my #1 go to of supplements
I have ordered the protein powder, greens, collagen, gut love and apple cider gummies and the sleep gummies. My all time favorite is the hormone hero, literally my hero when my pmdd was at its worst. I tried everything and this really helped me. The powders all taste yummy, all natural ingredients in every one. They really do help me feel better. Thank you Teami for making a great product.
Frequently Asked Questions
Subscribe to our Newsletter
Subscribe to our newsletter and get 10% off your first purchase
IT'S NOT JUST
TEA

, IT'S A LIFESTYLE