What wellness powder is right for you?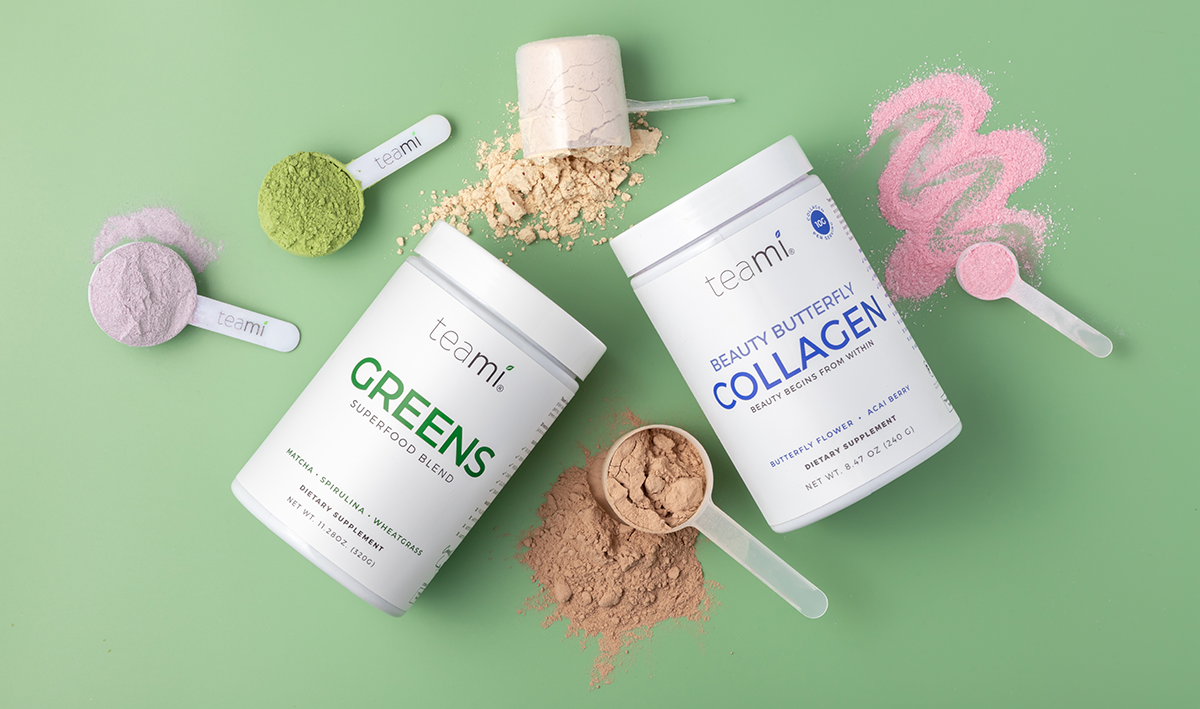 Collagen, Protein, and Greens oh my! It's hard to know where to start on your wellness journey and with so many powders available, we've decided to make it easy and break down all options so you can fully understand the benefits of each one and choose the perfect fit for your goals!
Although each wellness powder can contribute to your health, energy and beauty there's definitely some that can help more in one department than another. So first off, what is it you're trying to achieve?
"I want a natural beauty boost!"
If you're looking to pursue some natural beauty boosting benefits then a collagen powder may be the right fit for you! Collagen promotes better skin elasticity, hair and nail support and a youthful appearance, but what is collagen anyway?
Collagen is a structural protein that strengthens the tissue in your body, in fact, it accounts for 30% of protein in the body! What you might not know is that after the age of 20, the human body loses about 1% of it's collagen production each year. One of the ways that we can counteract this loss is through collagen supplements. 
Our Teami Beauty Butterfly Collagen is premium-select grade collagen, sourced exclusively from the scales of sustainable, wild-caught codfish. Fish scales are a very pure, clean, abundant source of collagen.
Marine Collagen is amazing on its own for overall beauty support, but we wanted to go a step further. We blended two complementary antioxidant ingredients with our wild-caught marine collagen to make our powerful beauty collagen formula!
"I'm struggling with bloating!"
Bloating isn't fun for anyone! Not only can it kill your confidence, it can also be uncomfortable and even painful. We created Teami's Gut Love Prebiotic & Probiotic powder specifically for this reason! One of the best ways to decrease bloating and increase gut health is by balancing your guts natural microbiome of good bacteria. Taking a probiotic can help provide the good bacteria you need to support a healthy digestive system and help relieve bloating. At the same time, our Gut Love powder also includes prebiotics which are special plant fibers that help to encourage even more growth of healthy bacteria.
Stress, lack of nutrition, physical inactivity, and alcohol can throw the gut microbiome out of balance and allow bad bacteria to flourish. Adding a daily probiotic/prebiotic supplement to your wellness routine is a great way to actively invest in your gut health and improve bloating!
"I've got no energy!"
If you're struggling with low energy you may be missing out on some vital nutrients, antioxidants and minerals from your diet. To combat this we created Teami Reds, a delicious blend of superfruits, antioxidants, and adaptogens to deliver clean, natural energy. Reds is made with over 20 vital superfoods from the red, purple, and blue fruit and vegetable family. These contain essential compounds such as anthocyanins in red, purple, and blue fruits and vegetables and carotenoids in orange and yellow, which provide a broad spectrum of compounds to support your overall well-being! 
"I have trouble getting enough greens."
You're not alone! Did you know that only 1 in 10 Americans will reach the recommended amount of vegetables in their diet daily? That's why we created our delicious + convenient Greens Superfood Powder!

Teami Superfood Greens is packed with 16 superfood green nutrient-dense ingredients to help get your daily intake of veggies, promote natural energy levels, banish belly bloat, support regular digestion, and overall well-being!

Each ingredient like ceremonial grade matcha, wheatgrass, spirulina, celery, and spinach was handpicked and blended perfectly together for the maximum overall health benefits- all in one scoop!
"I'm always hungry and I can't stop my cravings!"
Sometimes our cravings are hormonal and other times it's due to a poor diet and lack of protein! Did you know that protein increases numerous satiety hormones and lowers the appetite hormone. By getting adequate amounts of protein in your diet, you won't overeat because you'll feel satisfied for a longer time. 
Unfortunately, not all protein supplements are created equally! A lot of protein powders on the market have unnecessary fillers and added sugars which just increase cravings and can leave you feeling empty and unfulfilled. 
Our Organic Plant-Based Wellness Protein was created because our founder, Adi Arezzini, was disappointed with every vegan protein she found on the market. Every protein powder she tried was chalky, didn't dissolve or blend, or was overly sweet!
After 18 months of sourcing and formulating, our Organic Plant-Based Wellness Protein was born! Our smooth protein blend includes 17 grams of clean, organic protein in each serving and comes in 3 delicious flavors. You can choose from Vanilla, Chocolate or Triple Berry!
"I'm so stressed out!"
Everybody gets overwhelmed at some point or another and it's easy to feel like stress is just something you have to live with. But there are many ways to help combat stress and get the relaxation you deserve. Magnesium is a nutrient that plays a vital role in brain health, including stress and anxiety. By blocking stimulating neurotransmitters and binding to calm, restful receptors in the brain, magnesium can help us relax. 
Teami's De-Stress is a delicious, 3-in-1 calming nighttime drink formulated with magnesium, calcium and vitamin C to support restful sleep, regular digestion, muscle recovery and balance. Plus, it tastes delicious and is perfect for winding down the day with a hot bath or face mask!
Teami focuses on natural teas, herbs and ingredients from the Earth to help solve issues we experience on the day to day. We blend, taste and try our products until we find the perfect balance of functional and effective ingredients! Check out more of what we have to offer by shopping our Best Sellers! 
Subscribe to our Newsletter
Subscribe to our newsletter and get 10% off your first purchase
IT'S NOT JUST
TEA

, IT'S A LIFESTYLE