What Really Happens When You Use Vaseline as Moisturizer?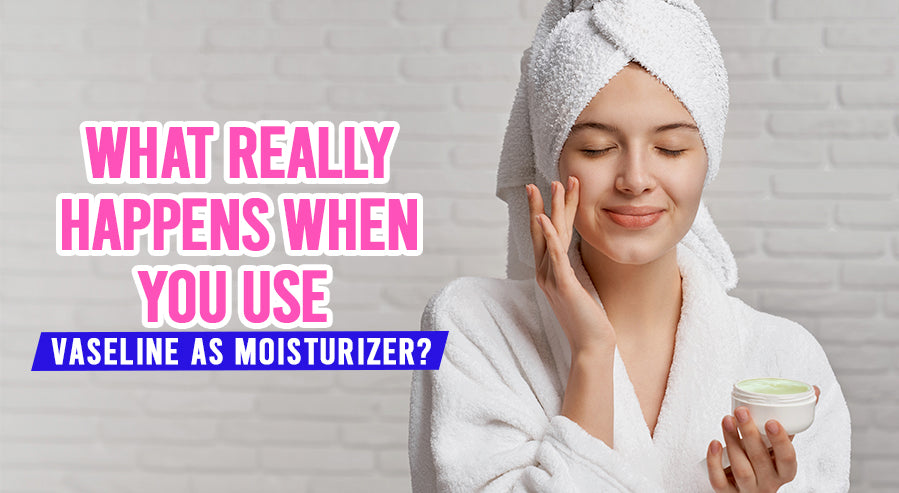 Moisturizing our skin is an almost essential practice since our skin is regularly exposed to intense elements. Nature is an unforgiving force that forces us to endure less-than-ideal environments for our well-being and appearance. While we evolved to withstand many environmental hazards in nature, we still experience damage. While our natural response can protect us for limited periods, we must still consider the long-term consequences. 
Unfortunately, our skin is usually the first victim of the long-term impacts the elements have on us since it is our first line of defense. Anything from harsh winds to extreme heat can cause damage because elemental hazards all have the same major effect on our skin.
Most environmental hazards subject our skin to extreme forces that our body's natural protections cannot fully counter. One of the biggest issues involves a naturally produced substance that is a double-edged sword in skincare. Harsh elements like wind or heat strip the sebum (skin oil) from our skin and deprive it of a natural resource. While excess sebum can cause certain blemishes like acne, it is still essential for our skin since it provides natural hydration. 
Unfortunately, even those not regularly exposed to the elements can suffer poor hydration and need to intervene with moisturizers. One moisturizer that has gained popularity is Vaseline, but some have grown concerned with the side effects it might have. So, the question is: What happens when we use Vaseline as a moisturizer?
What is Vaseline?
You might have heard of Vaseline before, though you might not have ever had cause to use it until recently. The biggest misconception is that Vaseline is not the actual substance but is a brand name for petroleum jelly. The Vaseline brand began around 1872 (151 years ago) thanks to the ingenuity of an American chemist named Robert Chesebrough. Chesebrough was responsible for creating kerosene from sperm whale oil (a massive industry in the 19th century) and traveled to Titusville, Pennsylvania's oil fields, to research alternate fuel sources. 
While investigating the oil rigs, he learned of a residue forming inside the oil rig pumps as a byproduct of their function. The oil workers used the substance (then called rod wax) to treat cuts and burns they sustained. Chesebrough took samples of the rod wax back to his lab in Brooklyn and extracted petroleum jelly from it. 
Due to the use of rod wax in treating injuries, Chesebrough decided to brand the jelly he extracted as Vaseline and sold it as a medicinal product. Chesebrough officially patented his brand in 1872 under U.S. Patent 127,568 and identified it as Vaseline in his appeal. As you can guess, Chesebrough's patent request was approved, and he began manufacturing Vaseline in mass quantities via the Chesebrough Manufacturing Company.
Chesebrough retained complete control of his brand until 1955 when the Chesebrough Manufacturing Company merged with an American beauty and healthcare manufacturer called Pond's. In 1987, Pond's (and, by extension, the Chesebrough Manufacturing Company) was purchased by Unilever. Unilever is a British company that deals in products from multiple industries. Since Unilever purchased Pond's, Vaseline has been their product, and they continue to hold the rights as of 2023.
While Chesebrough originally marketed Vaseline as a medicinal tool, its uses have expanded to match the needs of modern society. Vaseline's primary use these days is as a lubricant, including a brief period where it was foolishly used as a lubricant for condoms. Nowadays, we know that using Vaseline as a sexual lubricant is dangerous since it promotes bacterial colonization, but it was a widespread practice at the time. 
While Vaseline is no longer a primary medical tool, it retains the following of people who use it topically. The topical application of Vaseline is meant to address issues that might irritate or harm the person using it, but there remains a question we must answer. What benefits does Vaseline offer?
Is Vaseline a Beneficial Moisturizer?
Moisturizing your skin is important to keeping it healthy and retaining its appearance, especially since certain elements can cause skin to age prematurely. Multiple types of moisturizers are available, but Vaseline seems to have a number of loyal users. Vaseline's loyalists are hardly surprising, considering Chesebrough synthesized it specifically for medicinal use. 
Unfortunately, Vaseline cannot be labeled a "superior" moisturizer by any means due to its many associated drawbacks. Using Vaseline can be unpleasant, especially for first-time users who struggle with certain textures or sensations.
Nevertheless, Vaseline is lauded as one of the most effective moisturizers on the market, but its application can be rough on beginners. Once the Vaseline is on your skin, it sits on top of it and acts as a barrier that shields your skin and prevents water from escaping. This keeps the water in your skin, preventing it from drying out and cracking.
People with normal, healthy skin usually only apply Vaseline to areas of the skin that are drier than the rest. While they apply it to the entire region, it protects the drier areas (i.e., elbows) and helps moisturize them. The main problem with Vaseline is that it is heavier than most moisturizers and has a greasy feel, making it an unpleasant sensory experience for most. It can also stain clothing if you are not careful, but that is not necessarily a major concern if your focus is on keeping your skin healthy. 
The main drawbacks appear to be associated with the classic version of the product rather than the newer options created since Chesebrough sold his company. Nevertheless, using Vaseline products will be a strange sensation since it is an occlusive moisturizer (traps moisture).
Most mainstream moisturizers add new moisture to the skin rather than sealing the existing water into your skin. That said, Vaseline has medicinally approved uses for people with specific skin conditions. To this day, Vaseline is prescribed as a treatment for dermatitis, better known as eczema. Vaseline's benefits seem particularly suited to eczema since the condition leaves skin damaged and raw. Unfortunately, Vaseline's composition also makes it a source of other skin issues that you might have been able to avoid before.
What Are the Risks of Vaseline Moisturizers?
As mentioned, Vaseline is not a perfect product, with drawbacks ranging from minor inconveniences to deeply unpleasant consequences. That said, there is nothing suggesting that Vaseline use can cause a fatal reaction, but the side effects associated with it can generate unpleasant symptoms. 
Earlier, we discussed the ill-advised use of Vaseline as a lubricant for condoms that was thankfully discontinued. Unfortunately, many still think Vaseline can be used as a sexual lubricant to assist in masturbation or sexual intercourse. A study on 141 women discovered that 17% of them used petroleum jelly as a lubricant, and 40% of those women developed bacterial vaginosis. 
Bacterial infections are a common threat when using Vaseline since the risk applies to certain parts of the skin. While the main instructions focus on preventing people from ingesting or inserting Vaseline, topical application can cause bacterial colonization.
Vaseline is so conducive to bacterial colonization because of its occlusive nature. While Vaseline traps water in the skin, it also traps everything else that might have been there before you applied the moisturizer. If dirt or bacteria was already on your skin when you applied it, you could be trapping them in the worst possible place. 
Vaseline seals off the pores in our skin, clogging them and trapping dead skin cells and bacteria inside. This causes acne breakouts and inflammation since we cannot expel the detritus like normal, and Vaseline can stay on the skin overnight. This allows these contaminants to fester for hours, making Vaseline a major threat to your skin if you are prone to acne outbreaks.
Avoiding this issue is usually a simple matter of cleansing your skin before applying the jelly. Washing your skin with soap and water should already be a common practice for anyone who takes hygiene seriously. Unfortunately, we are imperfect, and people might forget to take this step, allowing certain consequences to take hold.
Unfortunately, the cosmetic consequences of Vaseline use are mild, and there are minor health complications associated with its use. The main issue is that some people are outright allergic to Vaseline, making using it a dangerous prospect that can endanger your health. Fortunately, most allergic reactions associated with Vaseline appear to be rashes and skin irritation. This makes Vaseline use an uncomfortable and painful decision, but not one that will kill the user should they accidentally use some.
Unfortunately, there are extreme cases in which petroleum jelly, when inhaled, creates respiratory issues. Fortunately, the issues in question can be treated with modern medicine, but one in particular can cause lifelong complications. Inhaling petroleum jelly or allowing it to sit near your nose can trigger cases of aspiration pneumonia. 
Unlike its common counterpart, aspiration pneumonia is not caused by temperature extremes but is a result of exposing your respiratory system to certain compounds. The best way to avoid this complication is to consult your doctor and determine whether petroleum jelly presents a threat to you. Unfortunately, knowing the risks and benefits of Vaseline does not answer the biggest question in this article.
What Are Alternatives to Vaseline?
Finding an alternative to Vaseline can be simple or extremely difficult, depending on the resources at your disposal. Some people choose to use Vaseline because it is effective, popular, and is prescribed for eczema patients. That said, the potential risks might drive certain people away from using it and cause them to search for something more agreeable. 
Some people are sensitive to certain compounds and sensations, so the alternative they seek tends to overcome those concerns. Ideally, your Vaseline substitute should be a natural substance since they are compatible with our anatomy and are generally less intrusive than Vaseline. What might surprise you is that one of the best alternatives is something you normally drink.
The leaves of Camellia sinensis plants are responsible for creating several tea varieties, including matcha. While green tea and matcha are extremely similar and provide a delicious and nutritious drink, many overlook one of their main benefits. Matcha and green tea both offer extremely effective skincare benefits, including the ability to moisturize skin.
Tea is generally an excellent source of hydration because one of the main ingredients is water, but tea leaves contain hydrating molecules that can moisturize skin. A study from 2013 confirmed that green tea had pronounced moisturizing benefits that counteract photoaging. It is also generally lighter than Vaseline, making it less unpleasant to the senses. The biggest advantage it has over Vaseline pertains to bacteria.
Vaseline traps bacteria because it is occlusive, but green tea and matcha are not occlusive and actually eliminate bacteria. The catechins present in green tea leaves are antibacterial, meaning any bacteria trapped in your skin will be eliminated while the natural qualities of the tea rehydrate and restore your skin.
Finding the Right Blend
It would be disingenuous of us to claim that Vaseline does not offer skincare benefits and rehydrate the skin. The problem is that it can be harsh on certain skin types and has more side effects than certain alternatives. Matcha provides a natural option with fewer side effects and actively corrects one of Vaseline's side effects. 
While you might still want to use Vaseline if you have eczema, matcha-based products will likely agree with your skin more. The problem is finding a matcha-based skincare product from a vendor that deals with natural compounds.
We at Teami have a longstanding and undying love for tea, matcha included, and we believe there are very few problems it cannot solve. We have curated a catalog of tea blends and natural skincare products designed to keep you healthy and happy. Moisturizers are one of the most important resources in the skincare industry, so we made moisturizer one of our main products.
Our Superfood Moisturizer, Lightweight Daily Cream, imbues your skin with matcha's moisturizing and antibacterial benefits. We encourage you to visit our website and try our product directly. After all, finding the right blend is a Teami effort.
Subscribe to our Newsletter
Subscribe to our newsletter and get 10% off your first purchase
IT'S NOT JUST
TEA

, IT'S A LIFESTYLE