Vega vs. Orgain: A Comprehensive Organic Protein Review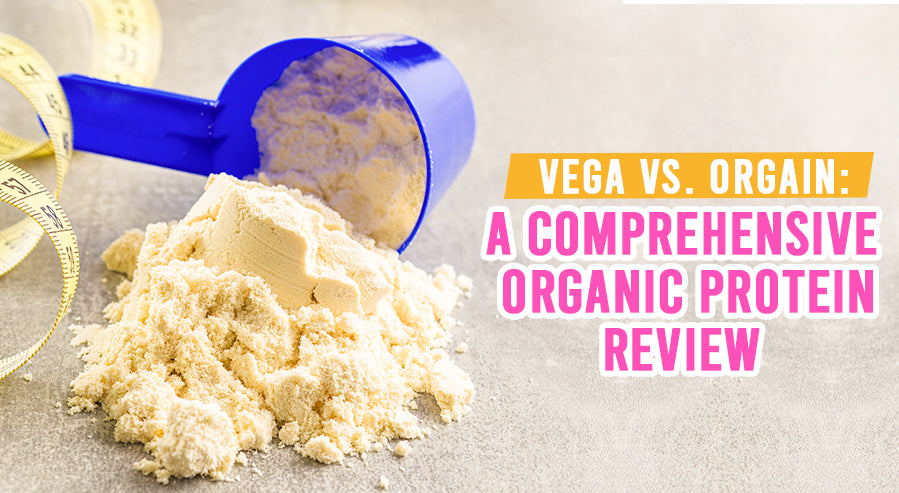 Working out to enhance your physical condition is no easy task, especially considering how our current lifestyle can make finding the time for a workout difficult. Nevertheless, people who genuinely care about their appearance and health make time for their workouts. As much as we might wish otherwise, there are no shortcuts to building muscle and trimming fat, so we must work hard to reach our ideal body. 
While most portrayals of workouts on television might make it seem like people just start throwing weights around, the process has more finesse. Athletes use several tools to enhance their metabolism and provide their bodies with the necessary resources to develop the desired amount of muscle. Some resources are more common than others, but protein powder is one of the staples of workout regimens.
Protein powder is almost essential to modern workout routines since it helps maximize the body's protein concentration and enhances its ability to create muscle. Because protein powder has become so important to athletes, multiple brands have spawned to profit from the newfound demand. There are countless brands, most of which cater to certain demographics within the fitness community. 
Some brands specialize in plant-based protein to give vegetarian and vegan athletes the resources they need to reap the same benefits as those who consume animal matter. Plant-based protein is still relatively new to the fitness community, but 2 brands have developed a name for themselves and are rising stars in the industry: Vega and Orgain.
What is Vega?
Vega is one of the older brands of plant-based protein powders and a company that has existed for nearly 20 years. The company was founded in 2004 in Burnaby (a district of British Columbia) by Charles Chang and Brendan Brazier. Chang is a serial entrepreneur, but Brazier is a well-known Canadian triathlete known for competing in Ironman events. 
Brazier's career as a triathlete began in 1998 (when he was 23) and ended in 2004, around the same time he created the Vega line of plant-based food products. Brazier maintained control of the Vega line for 11 years before selling the brand to Whitewave Foods, a Denver-based company, for $550,000,000.00 in 2015. Despite the large selling price, Whitewave Foods only controlled the brand for 6 years before selling it to WM Partners in 2021. 
Since then, WM Partners has controlled the Vega line and continues to sell an ever-growing catalog of protein products.
Vega does create protein powder but also sells bars, snacks, shakes, and supplements to diversify their catalog. Furthermore, Vega has begun expanding its list of flavors and has shown considerable growth in the 2 years since WM Partners purchased the brand. Unfortunately, Vega's corporate history is fairly slim, considering its humble origins and the fact that no major company has owned it for more than a decade. 
Despite this, Vega products are sold in mainstream markets nationwide in addition to the brand's website. You can find Vega protein products in stores like Walmart and Target or purchase them online at Vega's website or Amazon. The question of the hour is: How does Vega's protein powder stack up?
Vega Protein Powder
Vega's catalog of protein powders is fairly expansive and can be divided into 3 categories. These categories allow individuals with different health goals to benefit from the product. The 3 categories of Vega protein products are:
Daily Nutrition: Vega's daily nutrition line of protein powder is designed to give customers access to their daily protein intake. Some people are forced to spend long periods without meals or might not have a meal with a significant amount of protein. The daily nutrition powders help supplement the dietary needs of their customers, so vegans do not have to worry about not getting enough. (Note that the website has misspelled "daily" as "dally" if you are concerned about finding the right page.)
Sport Nutrition: Vega's line of sport nutrition protein powder is designed to help athletes and bodybuilders get enough protein to develop their desired muscle mass. Their sport line boasts being able to help athletes push harder than they could without the protein, though there are no special ingredients that will augment your performance. Rather, the protein is optimized to provide the maximum amount of energy and raw materials to help the user improve their results.
Functional Wellness: Vega's functional wellness line is a simple supplementary product designed to help people with certain deficiencies. It is a slightly more specialized blend that focuses on either enhancing your energy reserves (if you are lethargic) or addressing gastrointestinal distress.
Vega's catalog is fairly expansive, and each category has different nutritional data corresponding to the product's function. For simplicity's sake, we will focus on the daily nutrition category. Even then, this category accounts for 7 different products with 26 flavors between them. Their original blend remains one of their best-received products.
Vega Original Protein Plant-Based Powder contains 25 grams of protein, 3 grams of fiber, and no sugar. A single serving of Vega's protein powder is 180 calories, making it fairly heavy if you use calories to track your dietary intake. It also comes in either vanilla or chocolate flavors with a retail price of $26.99 for a large tub and $19.99 for a small one.
Insofar as reception goes, Vega's original blend is fairly well-rated, with a score of 4.1 out of 5 stars on Amazon. Most complaints surrounding Vega's product pertain to the flavor, which is a little unpleasant to certain customers. Nevertheless, Vega protein powder is a strong contender for anyone looking for a vegan powder.
What is Orgain?
While a former athlete and an entrepreneur founded Vega, Orgain was founded by a doctor named Andrew Abraham. Dr. Abraham's focus on plant-based nutrition appears to have been a byproduct of his youth. According to his profile on Orgain's website, Dr. Abraham was diagnosed with cancer at a young age (though the exact type is not listed) and underwent treatment to survive. 
While Dr. Abraham clearly survived his ordeal, he was forced to rely on liquid nutrition to ensure his cancer treatments did not weaken his body any further than they were supposed to. Apparently, Dr. Abraham was unimpressed with the nutritional value of his supplements since most mainstream brands contained processed ingredients. Dr. Abraham began making homemade nutritional smoothies that would later be the inspiration for Orgain's products.
Ultimately, the company was founded in 2008 to create nutritional protein drinks that were not inhibited by processed additives. Dr. Abraham is still in charge of his company to this day but has recently made connections with a more established food giant.
Last year, the infamous food giant Nestlé acquired the majority stake in Orgain's shares and is poised to take over the company completely next year. Most of Nestlé's products are junk food and soft drinks, so their acquisition of Orgain shares likely caused Dr. Abraham some discomfort. Regardless, the company has made no moves to change Orgain's core mission of providing quality protein supplements. The question, once again, is how Orgain's quality stacks up compared to Vega's products.
Orgain Protein Powder
Despite Orgain being younger than Vega, it appears to have cultivated a larger catalog than its rival brand. Orgain boasts catalogs for regular protein powder and vegan-friendly alternatives to supply 2 markets simultaneously. Furthermore, it appears that Orgain has more flavors, including seasonal offerings, to help make their customers' collections more festive. 
Even more impressive is that Orgain offers protein powders that address other concerns beyond enhancing muscle development. Orgain has a product that introduces collagen peptides, a product that enhances immune response, and a product designed for children. Unfortunately, the collection of flavors and specialty products does not mean Orgain is inherently more effective or successful than its rival brand. 
One common factor between Orgain and Vega is that both brands offer more than just protein powder. Insofar as protein powder is concerned, their best-selling product is their Organic Protein Powder.
Orgain's Organic Protein Powder is one of their vegan-friendly offerings and comes in 10 flavors. These include:
Vanilla Bean
Creamy Chocolate Fudge
Chocolate Coconut
Chocolate Caramel Sea Salt
Chocolate Peanut Butter
Peanut Butter
Iced Coffee
Cookies 'n Cream
Strawberries & Cream
Natural Unsweetened
With 10 distinct flavors, including flavors that are very popular with large demographics, Orgain is seemingly in the lead. In addition to the massive flavor increase, Orgain's product comes in twice as many sizes (though each size alters the price). The sizes and their associated prices are:
10x Single-Serve Packets: The single-serve packet bundle retails for $26.24.
1.02 lb. Canister: This size retails for $19.49 per unit.
2.03 lb. Canister: This size retails for $28.49 per unit.
There is also a 1.59 lb. canister, but it is sold out at the time of writing for this article, preventing us from verifying the price. Nevertheless, Orgain's largest size is almost $2.00 more expensive than Vega's, making it a slightly more difficult decision if price is a major factor. Insofar as the nutritional values are concerned, Vega seems to have a leg up on Orgain that might steer you in their direction. A serving of Orgain's protein powder contains 21 grams of protein and 5 grams of fiber. While Orgain has 2 more grams of fiber, Vega has 4 more grams of protein, which might dissuade you from using the former's product.
That said, this does not necessarily mean the product is less effective than Vega's version. A lower protein concentration per serving sometimes makes the product more malleable for certain purposes. One of the main advantages of Orgain's product is that one serving of their protein powder is 150 calories, 20 calories less than Vega's. This can still be fairly steep, but 20 calories can offer a lot of wiggle room depending on your daily caloric intake. Insofar as reception is concerned, Orgain is slightly more popular than Vega and has a 4.6 out of 5 rating on Amazon's storefront. The complaints are the same, with some people finding Orgain's flavor disagreeable.
Which One?
It appears that Orgain is the more popular choice with workout enthusiasts, though the decision is ultimately yours. Most protein powders are assessed by their results, but the truth is that your body will profoundly affect how beneficial protein powder is. We all have different metabolisms and somatotypes that alter how effectively we burn and store fat or create muscle.
If your body falls under a somatotype that struggles to build muscle or burn fat, your protein powder brand will only affect how satisfied you are with the taste. Nevertheless, protein powder is essential to your workout regimen since it gives your body extra energy and encourages your natural muscle development. There is no specific brand that will be more effective than the other unless one is loaded with harmful ingredients like high-fructose corn syrup. The biggest challenge will be finding a completely natural powder.
Finding the Right Blend
Protein powder is a staple of modern workout regimens and remains an athlete's best friend. While no brand will magically enhance your results, finding a quality product with natural ingredients will make the process more nutritious. Orgain and Vega both have their strengths, but devoting a minimum of 150 calories just for a protein shake might make it harder for you to have a proper meal with actual protein. Ideally, your shake should be 100 calories or less and still only use natural ingredients. The question is: Where can you find a powder like that?
We at Teami believe in providing natural solutions to health and beauty concerns since chemical and pharmaceutical products tend to have unpleasant side effects. While our bread and butter is beauty products and specialty teas, we recognize the importance of providing vegan-friendly protein sources. That is why we have our Plant-Based Wellness Protein (available in natural, vanilla, chocolate, and triple berry flavors). Our product is only 100 calories and provides 17 grams of protein per serving. We encourage you to visit our website and try our product firsthand. After all, finding the right blend is a Teami effort.
Subscribe to our Newsletter
Subscribe to our newsletter and get 10% off your first purchase
IT'S NOT JUST
TEA

, IT'S A LIFESTYLE