The Benefits of Black Cumin Seed Oil for Skin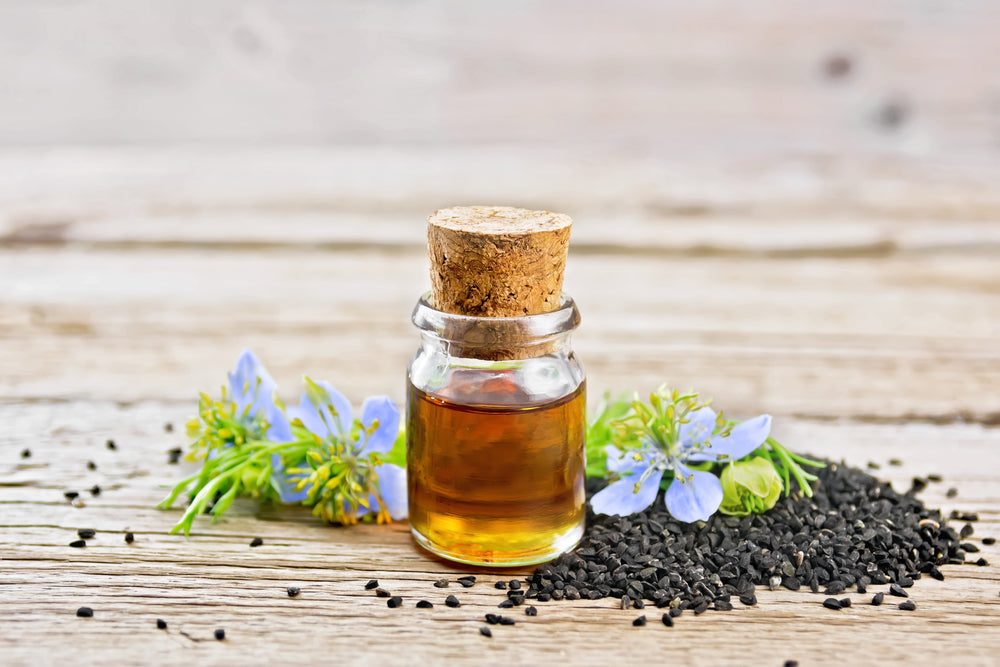 This ancient skincare ingredient was found scattered inside of King Tut's tomb. It may have also been used by Cleopatra in her beauty routine. No matter what ancient royalty used it, you can be sure that when you incorporate black cumin seed oil into your skincare routine, you will feel just as pampered! This tiny ancient wonder packs a huge punch and will drench your skin with youth, softness, and hydration!
Where do black cumin seed oil come from?
Black cumin seed oil is also known as black seed oil. It is also known as nigella or kalonji. Native to Eastern Europe, the Middle East, and western Asia, black cumin seeds have been used for centuries in culinary traditions. Throughout Asia and Africa, the seeds have been used in holistic practices and for beauty.
Today, black cumin seeds are becoming more popular for their use in clean and green beauty products, and it's easy to see why! Black cumin seed oil provides multiple benefits for skin soothing, softening, and improving radiance!
May help fight acne
Those who struggle with acne know how frustrating it can be. It's not enough that it's embarrassing, but it's also painful and can be difficult to treat. Researchers have found promise in black cumin seed oil for acne.
A review of studies in the Journal of Tropical Medicine explored the impact of black cumin seed on acne. This review reports that black cumin seed oil was more gentle than the standard treatment of benzoyl peroxide lotion. It also found black cumin seed to be effective in fighting acne and other common skin issues.
Minimizes fine lines and improves texture
Plump, hydrated skin is youthful skin, and black cumin seed oil is loaded with vitamins and minerals. Black cumin seed oil is especially rich in B vitamins. In the skin, B vitamins are essential for helping skin retain moisture and elasticity. B vitamins also improve the appearance of fine lines, skin tone, and skin texture.
One B vitamin present in black cumin seed oil is folic acid, or Vitamin B9. Folic acid helps neutralize free radicals that damage skin. Plus, it increases hydration by improving the function of the skin barrier, which reduces dryness.
On the other hand, Vitamin B3 (also known as niacin) stimulates collagen and elastin production and helps reduce redness. It also helps reduce fine lines and wrinkles.
Suitable for all skin types
A big perk of black cumin seed oil is that it is suitable for all skin types because it is so gentle and does not clog pores. It also contains many beneficial antioxidants such as thymoquinone, a phytonutrient that helps calm skin. This is good news for people with sensitive skin and acne who need skin-soothing ingredients!
Moisturizes extreme dryness
Dry, irritated, itchy, and flaky skin are some of the hallmarks of eczema. Although there are varying degrees of eczema, there is some scientific evidence that black cumin seed oil may help relieve this skin issue. A study in the Journal of Dermatology & Dermatologic Surgery revealed that in four weeks, black cumin seed oil significantly improved eczema on the hands of subjects. The results displayed faster improvement when compared to a conventional eczema treatment.
Improves the appearance of discoloration
It's important to realize that hyperpigmentation and dark spots won't fade overnight. However, by using the right ingredients consistently, you can fade hyperpigmentation. Dark spots usually occur because of sun damage, aging or hormones. Black cumin seed oil contains nutrients that can help fade skin discoloration, such as amino acids and Vitamin A.
Skin softening
Like many other oils, black cumin seed oil absorbs quickly and is extremely softening. It adds hydration to skin to keep it smooth and hydrated without being too heavy!
Black cumin seed benefits for your whole body
The skin on your entire body can benefit from what black cumin seed oil can supply. That's why it's one of the ingredients in our Teami Smooth Exfoliating Body Polish! This all-natural botanical body polish helps improve the appearance of your skin. Black cumin seed is one of the star ingredients, helping improve texture all over, including stubborn spots like on your knees and elbows.
That's not all Teami Smooth can do though – it also helps reduce the appearance of stretch marks, remove and prevent ingrown hairs and refreshes dull and dry skin.
Have you ever used black cumin seed oil before? Let us know in the comments or show us how you're using Teami Smooth in your routine by tagging us on Instagram with #thankyouteami!
Love,
Adi Arezzini | @adiarezzini
Co-Founder + CEO, Teami Blends
Certified Holistic Nutrition Coach
---
Discover Our Smooth Exfoliating Body Polish with Black Cumin Oil
Subscribe to our Newsletter
Subscribe to our newsletter and get 10% off your first purchase
IT'S NOT JUST
TEA

, IT'S A LIFESTYLE