Natural Skincare to Remove Dark Spots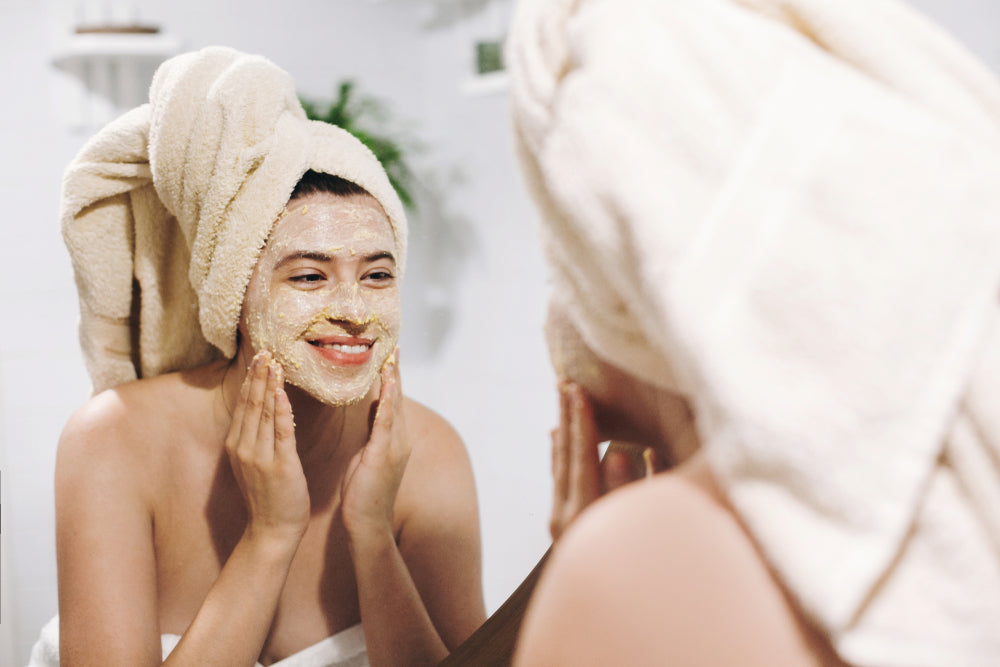 Most of us have done this at one time or another… We get a pimple, pop it, and keep picking at it. Then it gets bigger – and pretty soon we're left with a scab we can't seem to stop touching. Then we're left with a dark spot we can't get to go away. Have you been there before?
Picking at acne and popping pimples is one of the worst things to do to your skin. It's also one of the main factors that cause dark spots. Dark spots also occur from hormonal shits, sun damage, and so much more.
No matter where your dark spots or hyperpigmentation came from, there are three ways to remedy it. The first step is prevention, followed by fading and a slow process of removal. So what can you do to get rid of those dark spots? There are many skincare products designed to help. There are even natural solutions you might not know about hidden in your kitchen. Here are some solutions – including what you need to know the most about what it takes to fade dark spots.
Make an aloe vera and yogurt mask
Aloe vera and yogurt are two items you may have at home that naturally work to brighten and soothe the skin in addition to fading dark spots. You can easily mix these together to create a moisturizing face mask that is potent enough to work on hyperpigmentation. Yogurt contains lactic acid, which helps with hyperpigmentation.
You will need:
Two teaspoons of aloe vera gel
One teaspoon yogurt
Pinch of lemon juice – optional, but provides extra lightening benefits
Mix these ingredients together in a small bowl. The consistency should not be too runny, so feel free to adjust or add more yogurt until the consistency is creamy.
If you have sensitive skin, always conduct a patch test on your arm or leg before using a new mask or product. Then, apply to clean, dry, and freshly washed skin. Let it sit on your face for 20 minutes before rinsing.
10 more natural skincare solutions to remove dark spots
Aloe vera and yogurt are only two natural dark spot solutions you can find in the kitchen. Other DIY dark spot remedies include:
Turmeric for antioxidant power
Tomato paste, which is rich in Vitamin A
Citrus fruit juice that contains ascorbic acid (Vitamin C)
Kombucha can be used as a face toner for its antioxidants
Apple cider vinegar contains malic acid, an exfoliating alpha-hydroxy acid
Horseradish powder contains antioxidants and Vitamin C
Papaya puree can be applied on its own as a face mask
Strawberries contain natural glycolic, citric, lactic, and malic acids to brighten and exfoliate the skin
Dairy milk products contain lactic acid to fade dark spots
Oatmeal naturally cleanses the skin, delivers antioxidants, and soothes irritation
Teami Bright Dark Spot Serum
We know the DIY route isn't for everyone. That's why we spent nine months perfecting a dark spot solution that is natural, gentle, and suitable for all skin types. You can get even more benefits in one convenient product.
Teami Bright Dark Spot Serum is made with natural superfood ingredients that deliver key nutrients to fade dark spots and brighten skin in a super-concentrated formula.
Our serum targets stubborn dark spots without harsh chemicals and exfoliants in a formula that is natural, vegan, created in small batches, cruelty-free, and non-GMO! Plus, it's free of stuff that exacerbates skin issues, such as parabens, artificial fragrances, and synthetic dyes.
Teami Bright Dark Spot Serum contains some of the same powerful dark spot faders as those natural ingredients in your kitchen all in the convenience of a gorgeous bottle!
Vitamin C brightens skin and delivers antioxidants while encouraging collagen production
Azelaic acid reduces melanin production and minimizes scarring
Papaya enzyme is high in Vitamins A and C and helps clarify the skin
Calendula extract soothes irritation and is rich in antioxidants
You will love the lightweight, silky texture of this serum – it absorbs quickly and can be layered with our Hibiscus Infused Vitamin C Serum for maximum glow!
You can also use this serum with other natural Teami skincare products to let your skin drink in nature's skin-loving nutrients.
What you should know about dark spots
Here's the not-so-good news (and the truth): Dark spots, dullness, hyperpigmentation, acne scars – they all take time to fade. There is not a quick fix. It might take six months up to one year to get your skin where you want it to be, and that's only if you solve the root cause of the problem.
And know this: there is nothing wrong with having dark spots, freckles, or hyperpigmentation. You're still beautiful no matter what! However, there's nothing wrong with wanting to improve your radiance and feel more confident either.
The number one thing you should know about dark spots is that you cannot scrub them away. This causes more damage to your skin.
That's why the best step toward getting rid of dark spots on your skin is prevention first. Always wear sunscreen, talk to your healthcare practitioner about medications that might be causing dark spots, resolve skin issues, and never pick at acne. If you are pregnant, you may have to wait until after pregnancy and throughout a postpartum period to see your skin back to the way it used to be.
Everyone is different, and the amount of time it takes to remove dark spots and hyperpigmentation will vary. You can also talk to a dermatologist or your doctor about safe and natural ways to remove dark spots.
The bottom line
A consistent skincare routine with gentle but powerful ingredients can help reduce and fade hyperpigmentation and dark spots. However, drinking enough water and eating a diet rich in antioxidants also contribute to skin health – and we're here to help you live your best healthy life!
Follow us on Instagram and TikTok for more skin and lifestyle tips – and leave us a comment to let us know what you think. We love reading them!
Love,
Adi Arezzini | @adiarezzini
Co-Founder + CEO, Teami Blends
Certified Holistic Nutrition Coach
---
Get Rid of Dark Spots Naturally
Subscribe to our Newsletter
Subscribe to our newsletter and get 10% off your first purchase
IT'S NOT JUST
TEA

, IT'S A LIFESTYLE