How to Choose the Best Marine Collagen Supplement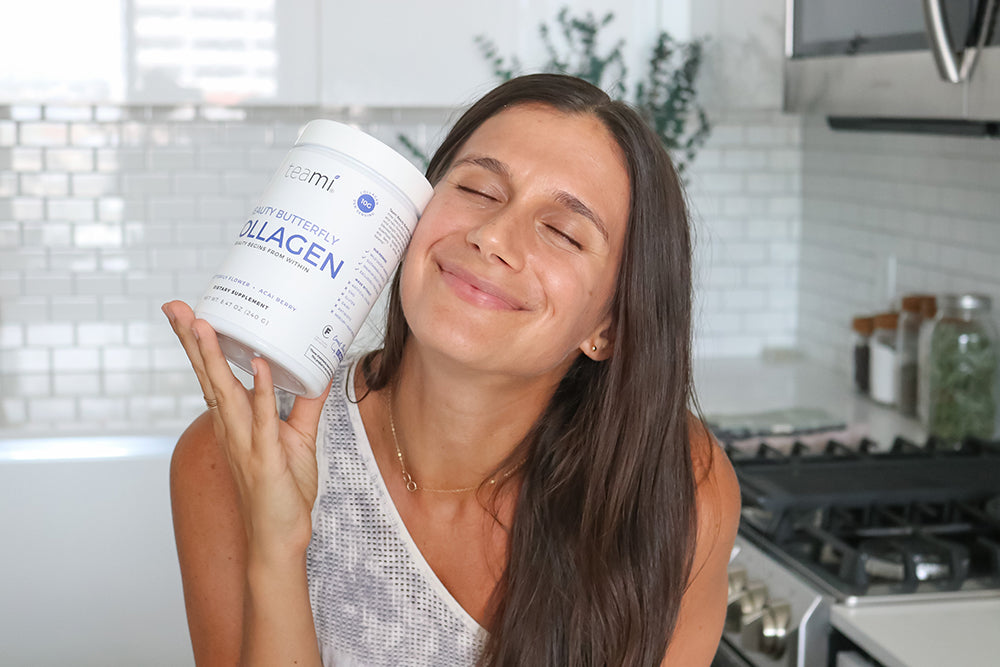 How do you decide to start taking a new nutritional supplement? Do you seek out a brand that you trust and conduct research on their sourcing? Jump into the hottest new trend because your friends recommended it (no doubt this one is tempting). 
When choosing a supplement, research is essential, because knowledge is power. Education gives you an opportunity to seek out the best product for your health and wellness. Learning more about the science and selection process of any supplement is empowering! It puts you in control of what goes into your body and the outcome you desire. 
Like any nutritional supplement, not all marine collagen supplements are created equally. That's why we're taking you along for a quick crash course that puts you in the know when it comes to marine collagen and where it comes from.
Marine collagen sourcing 
Collagen can only be sourced from animals and not plant-based sources. Plants can contain the vitamins, minerals, and amino acids that contribute to collagen production in your body, but it is not the same thing. Collagen is typically sourced from chicken, cows, pigs, and fish. All of these options have the potential to be farm-sourced instead of wild-sourced. Wild-sourced marine collagen is considered to be the superior choice. Furthermore, marine collagen has proven to have better bioavailability than other collagen sources, which means it is more effectively absorbed by your body. 
The source of collagen also impacts the purity of the final product. When collagen products are sourced from land animals, there is a greater risk of impurities. These impurities sometimes make it into the final collagen product. These impurities may influence the smell, taste, and even color of the product. Many companies attempt to mask this with sweeteners or flavoring, which might be unnatural. 
Premium grade marine collagen is derived exclusively from fish scales. Sustainable, wild-caught fish deliver top-quality purity when it comes to choosing a marine collagen supplement. 
The bioavailability of marine collagen 
Collagen from wild fish scales are naturally easier to absorb. The processing of collagen also plays a role in bioavailability. Many collagen supplements are not processed in a way that increases absorption. When a product is not fully broken down for use by your body, you will have a more difficult time absorbing it and reaping the benefits. The less work you have to do to break down your supplement, the better. Teami Beauty Butterfly Collagen goes through a manufacturing process that preserves the integrity of collagen's nutritional benefits but ensures maximum absorption.
Marine collagen benefits 
Collagen is a fibrous protein. It is the most abundant protein in your body and makes up 70% of your skin's weight. It helps provide elasticity and strength, which is one reason collagen is known as the "glue" that holds the body together. 
As one of the most important building blocks of your skin, collagen keeps skin strong, firm, and supple. It also assists with the renewal of skin cells. Collagen production declines dramatically with age, and by the time you reach your forties, your body is likely not producing collagen anymore. This process can be slowed by protecting your skin with sunscreen and minimizing sugar consumption, but diet also plays a role in encouraging collagen production.
Marine collagen supplements help give your body a boost of collagen and support the connective tissues of your body within your hair, skin, nails and joints. One collagen study that lasted 24 weeks was conducted on high-performing athletes. At the end of the trial, researchers concluded that collagen was beneficial to their joint health. Plus, a recent study in 2019 demonstrated that collagen supplements significantly improved the appearance of skin in participants. This included improved hydration, elasticity, and density. 
Try Our NEW Teami Beauty Butterfly Collagen
At Teami, we are proud to bring you the highest quality marine collagen with our new Teami Beauty Butterfly Collagen, a marine collagen supplement derived from wild-caught codfish scales and expertly blended with acai powder and butterfly pea tea powder for extra beauty benefits. 
At Teami, we want to empower you to make good decisions for your health, which is why we are proud to be transparent about what goes into our products. Our Beauty Butterfly Collagen can be mixed with coffee, tea and water, but we recommend that you use it as a smoothie superfood supplement, because that is what we created it for! One scoop is all you need for a nutritional collagen boost. However, the benefits do not stop there! 
Teami Beauty Butterfly Collagen is:
Non-GMO
Dairy- and soy-free
Free of artificial sugars
Free of heavy metals and mercury
Gluten-free
Why not try it yourself with this EASY recipe! 
Beauty Butterfly Collagen Smoothie Recipe
INGREDIENTS
1 cup blueberries
1/2 frozen banana
1/2 ripe avocado
1 tablespoon almond butter
1 tablespoon chia seeds
1 scoop of Teami Beauty Butterfly Collagen Powder (10 grams of collagen)
1 ½ cups milk of any kind (or water)
1 cup ice (optional)
Add all ingredients to a blender and process until smooth. After you're done, share a selfie on social media with your smoothie and the hashtag #thankyouteami so we can hear about how you like it!
Love,
Adi Arezzini | @adiarezzini
Co-Founder + CEO, Teami Blends
Certified Holistic Nutrition Coach
---
Discover our Teami Beauty Butterfly Collagen
Subscribe to our Newsletter
Subscribe to our newsletter and get 10% off your first purchase
IT'S NOT JUST
TEA

, IT'S A LIFESTYLE