Cucumber Benefits Unveiled: Skin and Under-Eye Brightening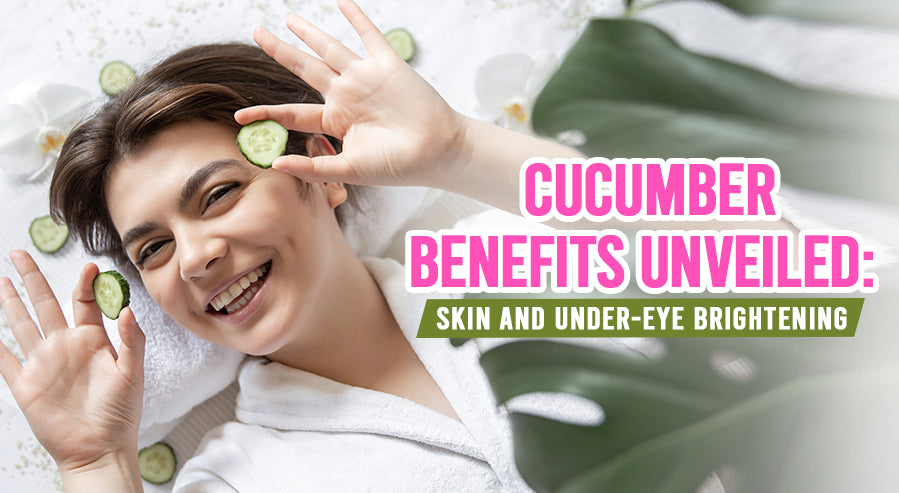 Our complexions can be difficult to manage since our skin is a seemingly immutable organ that cannot be replaced. Therefore, blemishes on our skin can be frustrating since our complexion is one of the first things people look at when assessing us. We live in a fairly vain society that puts more stock in our physical appearance than our personalities. 
As a result, failing to meet conventional beauty standards is considered a major issue in modern society despite being less important than living as you see fit. Nevertheless, there is nothing wrong with wanting to take care of your appearance and cultivate a complexion you can take pride in. The problem is that some blemishes need a little extra effort to remove.
One of the main issues in skincare is addressing skin discoloration and brightening parts to match your overall complexion. Several skin conditions can disrupt your complexion's consistency and make patches of your skin seem darker than the rest. Fortunately, skin brightening is common in modern cosmetics and can be accomplished with the proper tools. 
Most people associate skincare products with cosmetic creams and pharmaceutical products made from various compounds. They usually overlook the fact that certain natural compounds can be just as effective as traditional skincare products. A surprising addition to the list of natural skincare products is cucumber, which not everyone is ready to start using without more information.
What Are Cucumbers?
Cucumbers are a regular sight in most kitchens and grocery stores, with many enjoying them as a snack or adding them to recipes. Despite the commonality of cucumbers, most people do not know many of the details about this particular plant. Cucumis sativus, or the common cucumber, is part of the gourd family of plants, and the part we use in cooking is actually a type of fruit. 
Despite primarily being used as a culinary vegetable, the seeds within a cucumber classify it as a fruit (though this technicality does not affect its overall value). Cucumbers have become one of those fruits that we do not really think about beyond how to prepare them. As a result, not everyone is familiar with how cucumbers are grown or where they originally came from. 
The most important detail about modern cucumbers is that they are not the original incarnation cultivated 3,000 years ago. Rather, the modern cucumber is a variant created after the original was exported to other countries.
The original cucumber, C. hystrix, grew in India along with several cucumber variants used for culinary purposes. While India is the original home of cucumbers, the fruit eventually spread to other regions. In the 9th century, they were available in France, and by the 14th century, they could be found in England. 
Cucumbers did not appear in North America until the mid-16th century but have remained a cornerstone of modern cuisine in all these nations. Nowadays, cucumbers are readily available worldwide, commonly used in cooking, as snacks, and can be pickled for additional taste. Most fail to consider that cucumbers have applications outside the kitchen and might be a valuable resource for other aspects of our bodies. 
One of the more recent uses of cucumber is as a cosmetic tool, especially in spas that use them to cover the eyes during certain treatments. Unfortunately, there is not much information concerning cucumber's benefits for our skin.
While the amount of information concerning cucumbers and their ability to improve our skin might be lacking, that does not mean it is not a prevalent option. The biggest question is whether cucumber can address the issue of skin discoloration and brighten your complexion.
Can Cucumber Brighten the Skin?
Skin brightening is a major concern for some since there are several blemishes and skin conditions that can cause blotches of skin to be darker than the rest of your complexion. These blemishes can be frustrating since they detract from your overall complexion and make your skin look strange to the average person. One of the most prevalent examples of skin discoloration is hyperpigmentation. 
Hyperpigmentation is typically caused by overexposure to sunlight (though there are other causes) and results in darkened spots on the skin. These spots, usually called liver or age spots, can make you appear older and, in extreme cases, are a precursor to skin cancer. Reducing these spots can be difficult and requires substances that can brighten the skin and reduce the melanin concentration in the spots. A handful of compounds meet the criteria, but the question of the hour is whether cucumbers are among them.
While cucumbers have various nutritional compounds, none have a proven effect on skin coloration. More accurately, none are known to brighten skin or reduce the severity of conditions like hyperpigmentation. Cucumbers are not an effective resource for enhancing your complexion's brightness. 
Therefore, there is no reason to use it to address these issues. This might make you disregard cucumbers as a potential skincare product since they cannot address hyperpigmentation or other skin discoloration, but that might be a mistake. While cucumber cannot alter your complexion's color, it can address other skin conditions affecting your confidence and health.
Can Cucumber Enhance Under-Eye Health?
Our eyes are an extremely important part of our anatomy since they enable us to perceive everything around us visually. While our eyes are typically associated with visual health, there is more to their upkeep than ensuring we do not strain them and lose our ability to see. 
Cosmetically, there is very little we can do with our eyes since the color of our irises is predetermined by genetics, and there is no way to change them (aside from temporarily inserting colored lenses). However, people often overlook the patches of skin under our eyes since they are little more than just a minor part of our complexion. What some do not know is that the skin around our eyes plays a significant role in how our eyes look to others. 
Any decent photographer will tell you that framing is critical to getting the most beauty out of the subject. The same principle applies to our eyes since the skin around them serves as the frame for the windows to our souls. Treating this particular patch of skin can be difficult, but it is possible to treat the skin and enhance its health. Refreshing the skin around our eyes is possible if you can rehydrate it and provide it with the nutrients it needs to stay healthy.
This brings us to cucumber once more and whether it can fill the role typically filled by traditional cosmetic products. Unlike the brightening process, cucumber has a role in general skincare, especially around the eyes. The nutrients found in cucumbers are typically associated with proper nutrition rather than skincare; they are effective for both (albeit for different reasons).
Cucumbers, specifically cucumber juice, have been studied for their potential benefits on our skin and were discovered to be highly effective for various issues. The main benefits of cucumber juice on skin include:
Reduced swelling.
Soothing damaged skin.
Stimulation of antioxidants.
All of these abilities make cucumber juice a viable tool for treating skin and keeping it healthy while improving its appearance. The details of how cucumber juice enhances skin health start with its ability to cool the skin, helping it feel refreshed while providing a similar effect for its appearance. The source of this ability comes from the concentration of folic acid and vitamin C present in cucumber. 
Vitamin C is renowned for its ability to enhance the health and quality of human skin, though the full extent of these abilities is not always shared. The basic principle is that vitamin C stimulates the production of new cells, refreshing the dermal layer. This gives the skin around your eyes a healthier appearance and helps it bring out your eyes.
While vitamin C stimulates cell growth, folic acid stimulates antioxidant activity, which prevents damage caused by free radicals. This protects the skin from inflammation and reduces swelling and redness. This further protects your skin's appearance while preventing chronic conditions and preventing red or puffy eyes that might detract from your appearance. The combination of vitamin C and folic acid makes cucumber a powerful tool for protecting the skin, but another benefit of cucumber reinforces these abilities.
In addition to vitamin C and folic acid, cucumber has a high water concentration. While our bodies can hydrate themselves by producing sebum (skin oil), the water in cucumber can hydrate it further. Specifically, the water in cucumber can be used to moisturize the skin under the eyes, restore it, and help it frame our eyes more effectively. 
Ultimately, cucumber appears to be a highly effective tool for combatting under-eye inflammation and other skin problems pertaining to inflammation and moisturization. Unfortunately, this does not help if your main issue is skin brightening. The good news is that alternatives can address this issue in cucumber's stead.
Vitamin C For Skin Brightening
Vitamin C is more than just an essential nutrient; it is also a highly effective resource for skincare that has been used to deal with discoloration. Cucumber is an excellent source of vitamin C, but the concentrations present in a single fruit are insufficient for dealing with skin discoloration. Cucumbers might offer mild relief, but real change requires a more direct approach that can be applied directly to the skin. 
While cucumber skin creams and skincare products might offer moderate benefits, they remain ineffective against hyperpigmentation. Fortunately, vitamin C is not exclusively found in cucumber and has been synthesized as an independent supplement we can use to enhance our skin. Similar to cucumber, vitamin C has proven skincare benefits, but pure vitamin C has a wider range of effects that are more beneficial for dealing with conditions like hyperpigmentation.
Most cases of skin discoloration result from our bodies overproducing a pigment called melanin that our bodies produce in response to ultraviolet light. Specifically, our bodies produce melanin to counteract harmful solar rays that might cause sunburn or cancer. When this discoloration occurs, it can make our complexions seem uneven. Fortunately, vitamin C is known to inhibit our body's ability to produce melanin, reducing the chances of discoloration. 
This effect was recorded in a review of multiple studies that assessed vitamin C's ability to protect our skin from excess melanin. This is generally considered a preventative measure since inhibiting the production of pigments means our bodies cannot use it as a defense mechanism. However, further evidence suggests that vitamin C is retroactive.
Many studies found that vitamin C reduced the intensity of existing dark spots and the symptoms of hyperpigmentation. This confirms vitamin C's status as a skin-brightening tool since it eliminates the main cause of its darkening. Furthermore, vitamin C is also an anti-inflammatory, allowing it to reduce redness in the skin caused by oxidative damage or other inflammatory conditions. Ultimately, vitamin C is a more well-rounded option for brightening your complexion and helping with some of the other skin issues that might affect your under-eye skin.
Finding the Right Blend
Dealing with under-eye skin can be complicated since most are nervous about applying anything so close to the source of their sight. Nevertheless, individuals who want to make their skin seem healthier are willing to take the necessary steps. Cucumbers are not often associated with under-eye skincare or brightening, but it does benefit one of those things. Unfortunately, the brightening requires assistance from a stronger substance like vitamin C. The biggest obstacle is acquiring the cosmetic tools you need since it can be hard to find natural products.
We at Teami have always believed that the first choice for skincare should come from nature, which is why we have devoted ourselves to natural products. We offer a wide assortment of skincare products made from natural substances to help you keep your skin healthy. Among our products are our Organic Makeup Remover Cloths (made with cucumber) and our Hibiscus Infused Vitamin C Serum. Both these products can help keep your skin healthy, and the latter can address skin brightening needs. We encourage you to visit our website and try our products for yourself. After all, finding the right blend is a Teami effort.
Subscribe to our Newsletter
Subscribe to our newsletter and get 10% off your first purchase
IT'S NOT JUST
TEA

, IT'S A LIFESTYLE