Bye Bye Bloat Water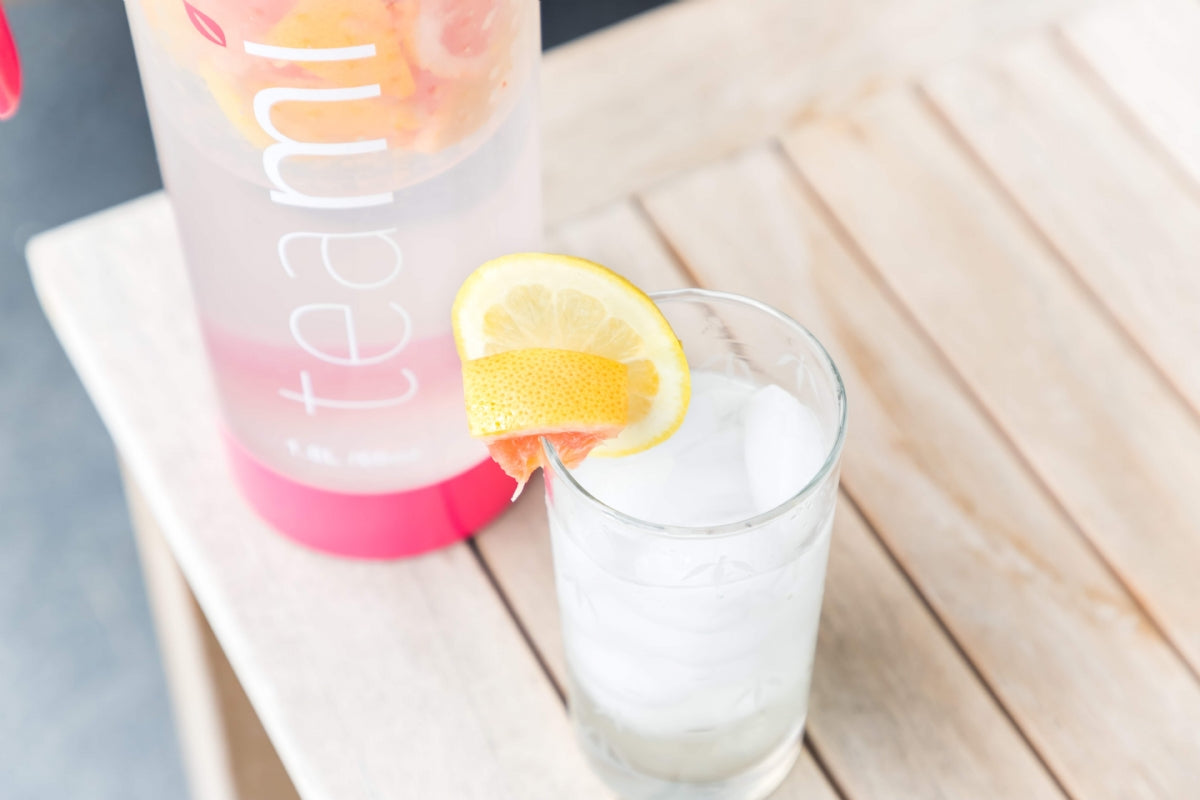 Want to say goodbye to bloating? No one likes to feel bloated! We want you to feel beautiful in your own skin, so we put together a recipe to not only taste good but help you FEEL good from the inside out! This detox water is so refreshing for your poolside days or to take on the go! 
Detox water is a beverage infused with the yummy flavors of fresh fruits, vegetables or your favorite herbs! Because it's naturally flavored water, it has little to no calories and BURSTING with health benefits! They are a great replacement for those sugary drinks most people reach for like juices or flavored coffees! 
Did you know you should be having at least half a gallon of water a day? Most people are not getting nearly enough water each day- so detox water is a great way to get your intake up in a yummy way!
We put together a perfect detox water recipe to try to beat bloating and aid in your overall health! We hand-selected each ingredient based on its powerful health benefits to beat the bloat and aid in digestion! Let's take a look at the benefits of each ingredient:
Lemon
Improves digestion, skin radiance, and a great source of hydration!
Stevia
a healthy plant-based sugar replacement that actually helps digestion and inflammation!
Grapefruit
helps curb cravings, boosts the immune system, improve heart health, aid in weight management and more!
Cayenne Pepper
speeds up metabolism, aids digestion and curbs cravings!
With just four power-packed ingredients, this recipe is boosting with benefits from each! Incorporating a few healthy swaps into your everyday diet is such an easy way to boost your health! Starting a healthy lifestyle doesn't have to be hard!
Now that you know the powerful benefits of detox water - who's ready to start making our special beat the bloat water? Before we get into how to make it, we wanted to give you our #1 tip when making detox water! 
Instead of making single-serve glasses, we love to make our detox waters in big batches to have for the whole week! It helps us stay accountable and drink healthy options instead of grabbing a quick sugary fix. We can't live without our Lifestyle Pitcher! Say hello to our tea essential - not only can you make big batches, but you can also take these on the go! 
Not only are they adorable, but they also have a built-in infuser to infuse your yummy detox water combos and a no-slip grip to pour all your friend's glasses! Now let's get into how to make our this fun, refreshing beverage in your Teami Pitcher! 
Beat The Bloat Detox Water
Lemon
Liquid Stevia
Grapefruit
Cayenne Pepper
Cut up your fruit + put into the pitcher's strainer.
Add the cayenne pepper + liquid stevia into your pitcher, stick the strainer on top and pour your water in! ! Store it in the fridge for the week or enjoy right away!! 
This detox water is so refreshing and easy to take anywhere you go!
 Make sure to post photos of yours and tag @teamiblends when you do! Check out all of our favorites here!
Subscribe to our Newsletter
Subscribe to our newsletter and get 10% off your first purchase
IT'S NOT JUST
TEA

, IT'S A LIFESTYLE