6 Reasons you NEED a Portable Smoothie Blender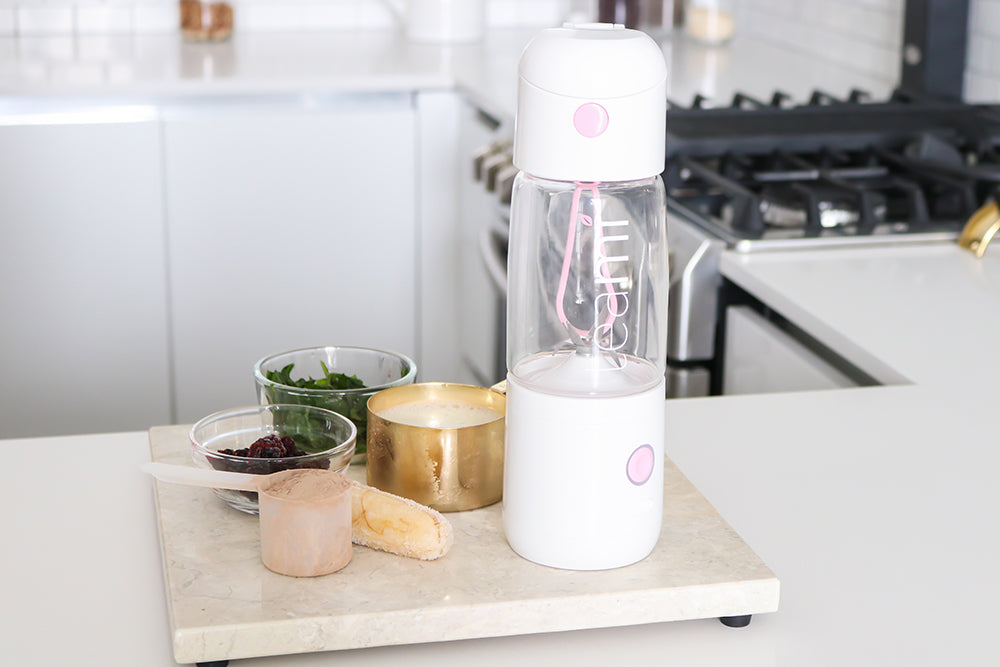 It's a New Year and you know what that means: New Year's resolutions!
For most people, they vow to lose weight or get in shape. In fact, in 2018, 45% of survey respondents said this was their resolution!
If you're looking to get a head start on your weight loss goal, then you may be searching for ways to eat healthier. One way is to blend tasty and wholesome smoothies to power you through your days.
A smoothie blender isn't the most portable thing, so you may be reluctant to get one if you're always on the go. Don't worry though, we've got you with our new new MIXit Portable Blender.
On The Go Goodness
Obviously, the most important thing about buying a portable smoothie blender is how portable it is. A company can claim to have a product that's easy for you to take on the go, but the reality is, many might be cumbersome and heavy.
When you're always on the go and and your purse or bag are stuffed, you shouldn't have to deal with a blender that's like a brick. It should easily fit into your purse or bag, and shouldn't be too heavy.
Our MIXit Portable Smoothie Blender was designed so you can take your smoothie on the go with no problems at all. No matter if you're going to work, the gym, or the car, you can just throw the blender in without a second thought.
Having a small blender that isn't heavy will make to-go smoothies so easy to make, you'll have no excuses for not staying on track with your fitness goals.
A Blender That Actually Blends
Not only does a portable smoothie blender have to be easily transportable, but it has to be efficient at its job as well. It defeats the purpose to have a portable blender if it doesn't whip up a smoothie within minutes. When you live an active lifestyle, these minutes matter!
The MIXit Portable Smoothie Blender has 6 stainless steel blades, which ensures that it'll smoothly blend pretty much whatever you throw into the blender. You can blend fruits, herbs, powders, veggies, other superfoods, and ice. This means you'll be able to customize your smoothies without any issues.
This makes the MIXit great for busy babes, as you'll save time and stay healthy while on the go! Considering you can throw almost anything into the blender, you'll never get bored with your smoothies. Have and try out all sorts of ingredients!
Charge at Home or Abroad
In your search for a portable blender, you may have run across battery-operated blenders. At first, these may seem optimal. You just have to insert batteries and replace them when they run out, after all.
But just from an environmental standpoint, using batteries is very harmful to our planet. The majority of batteries are "one and done," which means once they've run out of juice, you'll have to dispose of them. Even if you use rechargeable batteries, you'll eventually have to throw them away too.
Also, you can never tell when batteries are about to run out. You might think your portable smoothie blender has plenty of charge left, but while you're out and about, the blending power is abysmal because of lack of power. Or worse yet, your blender dies on you.
In this case, you'll have to either always have spare batteries on hand or you'll need to make an extra trip to the store for fresh batteries. But in the meantime, you're left with unblended ingredients and no smoothie.
The Teami MIXit Portable Smoothie Blender has great charging capabilities because it's charged by USB. When you're home for the night, you just plug it into a wall charger or your computer, and in the morning, it'll be ready to go.
If you're a smoothie monster and manage to drain the blender while you're out, all you need is the power cord and a usb slot get it working again. You can easily plug it in at your desk if you're at work.
So Easy To Clean
The Teami MIXit Portable Smoothie Blender is so easy to clean.
We made it easy to detach the bottom, so you can just clean the top glass container and lid if you're home and want to throw it in the sink with the rest of your dishes.
If you're out and about and want to make another smoothie, you don't even have to detach the top.
All you have to do is add water and soap, put the top on, and turn it on! Just rinse it thoroughly afterward and it'll be good to go!
Fun Design
We know: it's just a portable smoothie blender, but it can still be a fashion accessory. For example, if you have a color scheme going on with your accessories, it can be nice to match your blender with it.
For the Teami MIXit Portable Smoothie Blender, you get 2 color choices: pink and black. Get your favorite color. If you're buying multiple blenders for family and friends, you can mix up the colors and have fun.
Freebies
Everybody loves freebies. We've got you here too.
Want to get on track with a healthier diet, but have no idea where to start? Every one of our blenders comes with a free ebook with 22 healthy smoothie recipes! This gives you plenty of options to choose from, and with these recipes, you'll get a good idea of what combinations work.
Once you get comfortable enough with our recipes, then you'll be ready to create your own smoothies so you use your favorite ingredients.
Get a Fantastic Portable Smoothie Blender for 2020
The Teami MIXit Portable Smoothie Blender is exactly what you need to jump start your 2022 health and wellness resolutions. You'll be able to drink the most delicious smoothies, no matter where you are.
And if you have friends and family who have the same fitness goals as you, you can also purchase a few for them to make their weight loss journey easier! So make yourself and your loved ones happy with a Teami MIXit Portable Smoothie Blender today.
For more information about living a healthier life and what we have to offer, visit our blog.
Love,
Adi Arezzini | @adiarezzini
Co-Founder + CEO, Teami Blends
Certified Holistic Nutrition Coach
---
Get the Teami MIXit Portable Blender
Subscribe to our Newsletter
Subscribe to our newsletter and get 10% off your first purchase
IT'S NOT JUST
TEA

, IT'S A LIFESTYLE