5 Healthy & Delicious Super Bowl Snacks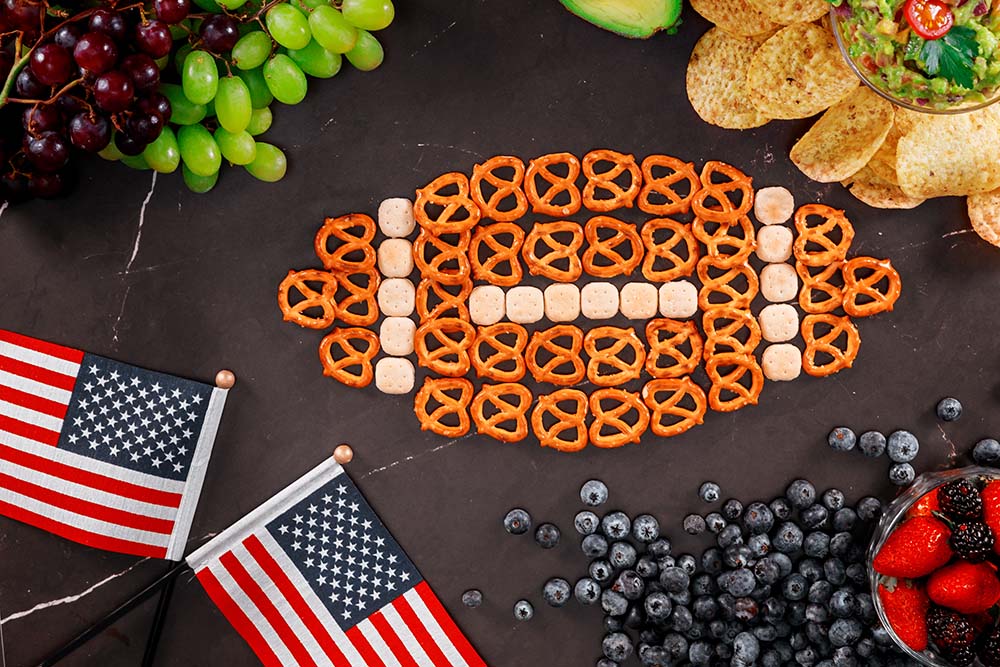 It's almost time for kick-off! So naturally we're already working on a healthy snack 'game plan' to save you all from falling into a food coma come halftime.
Although we love all the game day classics, here are some healthy (and delicious) alternatives if you're looking to stick to your New Years resolutions! 
---
Sweet Potato Skins
This sweet and savory recipe is a perfect alternative for a much-loved classic!
Ingredients:
6 medium sweet potatoes
3 tablespoons extra-virgin olive oil
1 cup of shredded mozzarella (or vegan alternative)
3 tablespoons grated parmesan (or vegan alternative)
2 scallions (chopped)
1/2 an avocado, chopped into small chunks
1 cup of black beans, crushed
Directions:
Step 1. Preheat oven to 350 degrees Fahrenheit . Line a baking sheet with parchment paper and place sweet potatoes evenly on top (keep them whole for now). Bake until tender, approximately 40-50 min. 
Step 2. Wait until cool and then cut the potatoes in half lengthwise.
Step 3. Scoop out the center of the sweet potato leaving about  1/4 inch on the skin. (save the scooped out bits to make mashed sweet potatoes later!)
Step 4. Preheat oven to 400 degrees Fahrenheit. Before putting your potato halves back in the oven brush them with extra-virgin olive oil, then bake until slightly browned. Around 20-30 min. Remove from oven and allow to cool. Then cut in half crosswise. 
Step 5. Next arrange the pieces (skin side down) on the pan and sprinkle with mozzarella, parmesan and scallions. Bake until the mozzarella melts (around 8-10 min). Remove the skins from the oven and drizzle with remaining olive oil. 
Step 6. Optional. Lastly, top the skins with the bits of avocado or a spicy salsa! 
---
Sweet & Spicy Roasted Pecans
Enjoy the healthy benefits of protein, healthy fats, and fiber with this delicious snack!
Ingredients:
6 tablespoons of olive oil or unsalted butter
6 tablespoons organic raw honey
2 teaspoons of ground cinnamon
1.5 teaspoons of kosher salt
1 teaspoon freshly ground black pepper
1 teaspoon of cayenne pepper
1 teaspoon chili powder
1/2 teaspoon of ground ginger
6 cups of pecan halves
Directions:
Step 1. Preheat oven to 350 degrees Fahrenheit. Line 2 rimmed baking sheets with parchment paper. 
Step 2. If using butter, melt butter in a large saucepan over medium heat. Then add honey & spices. Stir to combine.
Step 3. Remove mixture from heat and stir in pecan halves.
Step 4. Spread pecans in a single layer on your sheets. Bake until brown & toasted, approximately 15-16 min. Then, cool and serve!
---
Oven-baked Zucchini Fritters
There's no deep-frying required to make these crispy and delicious fritters.
Ingredients:
2 medium zucchini
1 large egg
2 oz of preferred cheese. Grated.
1/2 a cup of panko
1 clove of garlic, minced. 
Black pepper and salt to taste!
Directions:
Step 1. Preheat oven to 400°F. Grate zucchini and then squeeze dry with paper towels before transferring to a bowl. 
Step 2. Add egg, cheese, panko, garlic, salt and pepper to zucchini and then stir to combine. 
Step 3. Next take tablespoon scoops of the mixture and gently flatten them onto a greased baking sheet.
Step 4. Bake for 18-20 min, flipping halfway through, until golden brown and crisp.
---
Pretzel-crusted "Fried" Chicken
There's no denying that biting into some crispy chicken goes hand-in-hand with watching the game. So, here's our healthy twist on a fan-favorite!
Ingredients:
1 package of raw chicken wings or drumsticks. 
1lb of gluten free pretzels
2 tablespoons of paprika 
Kosher salt and ground pepper
1 cup low-fat buttermilk
2 egg-whites
2 tablespoons Dijon mustard.
Directions:
Step 1. Preheat oven to 350°F. Place pretzels in a heavy-duty, resealable plastic bag and crush into coarse crumbs. Then mix in paprika, 1 1/4 teaspoons salt, and 2 teaspoons pepper. Pour pretzel crumbs into 2 shallow dishes.
Step 2. In a bowl, whisk together buttermilk, egg whites, and mustard. Then, 1 piece at a time, coat chicken in pretzel crumbs from first dish, then dip into buttermilk mixture, shaking off excess. Coat thoroughly with crumbs from second dish.
Step 3. Place on parchment-lined baking pan and bake until chicken crust is crispy and golden. Around 40 to 50 minutes.
---
Cauliflower Buffalo bites
Credited with reducing inflammation, fighting cancer, boosting heart health, detoxifying your body, aiding digestion, and even improving brain function, this veggie is an excellent alternative to your buffalo wings craving!
Ingredients:
1

 

large head cauliflower cut into bite sized pieces

2 tablespoons of olive oil
2

 

teaspoons

 

garlic powder

1 tablespoon melted butter (use coconut oil for dairy-free alternative)

¾

 

cup

 

hot sauce of choice
Directions:
Step 1. Preheat oven to 450F degrees.
Step 2. Place bite-size cauliflower pieces into a large plastic bag. Drizzle olive oil on top to lightly coat.
Step 3. Add garlic powder and salt & pepper to taste. Close bag and toss ingredients around until completely coated.
Step 4. Place evenly on a parchment-paper lined baking pan and bake on the middle rack for 15min. Turn pieces over halfway through baking so both sides are crisped!
Step 5. Remove from oven. Melt 1 Tablespoon butter in medium glass bowl and then add hot sauce. Put cauliflower pieces into the mixture and stir until coated. 
Step 6. Return to the oven and cook for another 5 mins. Then, serve with your dip of choice!
Subscribe to our Newsletter
Subscribe to our newsletter and get 10% off your first purchase
IT'S NOT JUST
TEA

, IT'S A LIFESTYLE