It is so important to nourish your body with the essential vitamins and nutrients needed to feel your best! Our Limited Edition Wellness Bundle is a collection of our favorite inner wellness boosters to feel your best! 
For thousands of years, people have enjoyed green tea as part of their wellness regiment - which is included in every single blend in this bundle.
What's Included:
Green Superfood Powder
Alive Blend

Profit Blend
Honey Spoons
20 oz tumbler (choice of color)
Teami Greens Superfood
Packed with 16 superfood, green nutrients to help promote energy levels, get your daily intake of veggies, and promote digestive and overall health!

As always, this Superfood Greens Powder is naturally sourced, full of only the highest quality ingredients, and quality controlled to assure we create the perfect batch, every time!
Alive Blend
A mix of Green Tea, Lemongrass, Ginger, this blend will give you that extra oomph throughout the day, help calm your body of daily stressors and support overall wellness.

Profit Blend
With a mix of Peppermint Leaf, Goji Berry, and Roselle, this blend is packed full of amazing super-tea ingredients that help nourish your body from the inside out.
Greens Superfood Powder
Ceremonial Grade Matcha Powder, Wheatgrass, Spirulina, Chlorella, Chlorophyll, Spinach Leaf Powder, Broccoli Powder, Acai Berry, Kale Powder, Kelp Powder, Rocket Leaf Powder, Parsley Powder, Celery Powder, Garcinia Cambogia Extract, Dandelion Extract & Grape Seed Extract
Alive Tea Blend
Ginger, Honey, Lemongrass & Green Tea
Profit Tea Blend
Green Tea, Peppermint Leaf, Goji Berry, Chinese Red Date, Roselle, Nettle Leaf & Lingzhi Ganoderma
Honey Spoon
Isomalt, Purified Water, Honey, Natural Honey Flavor
Greens Superfood Powder
Drink it on its own with water or add it to a smoothie, juice, oatmeal, or even a shake for a supergreen boost every day!!!
Alive Tea Blend
Place 1 tea bag in a mug or Teami Tumbler and add hot water! Allow 3-5 minutes to flavor.
Profit Tea Blend

Place 1 teaspoon of the blend in a mug or Teami Tumbler and add hot water! Allow 3-5 minutes to flavor.
Recommended for adults only. If you are taking prescription medication, or are pregnant or nursing, consult your health care provider prior to using this product. Every individual has their own medical and physical conditions, therefore we can not foresee any adverse reactions to our All-Natural blends.
Contains plant-based caffeine.
Results not guaranteed and may vary from person to person.
These statements have not been evaluated by the Food and Drug Administration. This product is not intended to diagnose, treat, cure, or prevent any disease.
I love it! It is an amazing product
Love it!!!
Amazing product. The tastes was surprisingly good. Can't wait to order more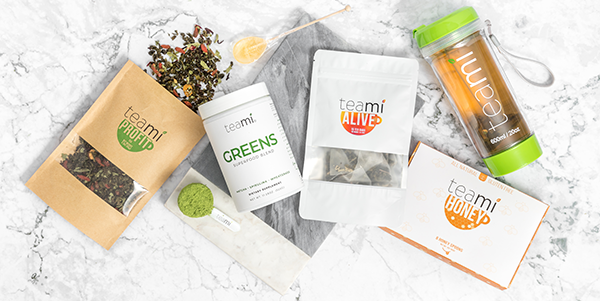 Frequently Asked Questions
Subscribe to our Newsletter
Subscribe to our newsletter and get 10% off your first purchase
IT'S NOT JUST
TEA

, IT'S A LIFESTYLE