Are you ready to transform your wellness and get on the path toward a healthier lifestyle? We believe that your body needs protein, collagen, and superfood nutrients daily to function at its best.
That's why we put together this Super Smoothie Kit that includes fundamental wellness powders you need to fuel your body! Mix + Match the inner wellness powders daily to make your own Super Smoothie creations!
Super Smoothie Kit Includes:
Teami Superfood Greens Powder - 16 superfood ingredients
Teami Organic Plant-Based Wellness Protein - 17g protein
Teami Beauty Butterfly Collagen - 10g marine collagen protein
Teami MIXit, 30 Second Portable Smoothie Blender
Regular Price: $170.00
Super Smoothie Kit Price: $165.00
You instantly save $5!
Teami Superfood Greens Powder
Ceremonial Grade Matcha Powder, Wheatgrass, Spirulina, Chlorella, Chlorophyll, Spinach Leaf Powder, Broccoli Powder, Acai Berry, Kale Powder, Kelp Powder, Rocket Leaf Powder, Parsley Powder, Celery Powder, Garcinia Cambogia Extract, Dandelion Extract & Grape Seed Extract
Teami Organic Plant-Based Wellness Protein, Rich Chocolate
Organic Teami Protein Blend (Organic Pea Protein, Organic Rice Protein), Natural Cocoa bean, Medium Chain Triglyceride (MCT oil from coconut), Natural Chocolate Flavor, Guar Gum Fiber, Stevia Leaf Extract, White Tea Extract, Calcium Phosphate, Silicon Dioxide
Teami Beauty Butterfly Collagen
Wild Caught Marine Collagen from Codfish, Butterfly Pea Flower, Acai Berry
All three wellness powders can be used daily mixed with water, choice of milk, smoothies or baking! Nourish your body from within by creating your own Super Smoothies every day!
If you are taking prescription medication, or are pregnant or nursing, consult your health care provider prior to using this product.
*These statements have not been evaluated by the Food and Drug Administration.
This product is not intended to diagnose, treat, cure, or prevent any disease.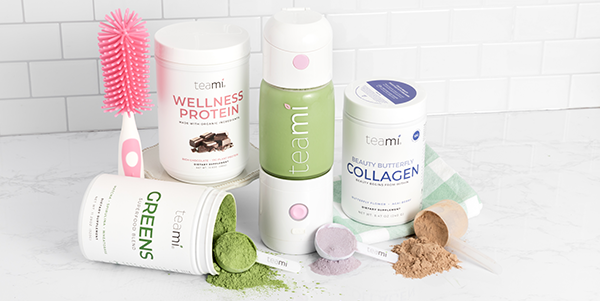 Love it
Really like the smoothie kit I got. Just with there were more servings in the collagen and protein.
Smoothie
I have my superfood green with banana and it tastes good.
Subscribe to our Newsletter
Subscribe to our newsletter and get 10% off your first purchase
IT'S NOT JUST
TEA

, IT'S A LIFESTYLE