Meet your new beauty BFF! This revolutionary 10L Skincare Fridge was made to keep your makeup and skincare products chilled & fresh for longer while giving your complexion a rejuvenating, cooling effect when applied! Chilling your beauty products is the best way to ensure it stays fresh for longer, so you don't have to throw it away before you finish it completely - we've all been there!
Benefits:
Can extend the shelf life of all your skincare by 40%
Depuffs/cools exhausted & irritated skin
Wakes your complexion up to feel rejuvenated & revitalized
Perfect for serums, moisturizers, oils, toners, face masks, all makeup, jade rollers, gua shas, makeup/skincare applicators, and even nail polish!
Oh, and if you want to keep a few snacks in your fridge too- we're totally on board with that ;)
Reason behind the product: In 2017 we started formulating our own natural, plant-based beauty products so that we knew exactly what we were putting onto our skin. There are no chemicals, preservatives, or dyes in ANY of the skincare products we create- meaning that the shelf life is between 1-2 years compared to chemical based products that can be used for 3-4 years. 
Our Co-Founder & CEO started putting her natural skincare in the fridge and realized that not only did it last WAY longer, but it gave her skin the most refreshing, cooling effect to help reduce puffiness and revive her skin! We can't wait to see how you use your fridge at home, because it's changed the game for our skincare routine!
How it's made:
Two lightweight handles make it easy to travel with or put in any space
2 removable shelves to customize the inside of your fridge
A beautiful, marble glass-front to complement any room you put it in
Metallic, luxurious finish to give your skincare routine the home it deserves
Technology:
Our Skincare fridge has both AC/DC plugs which make it ideal for both indoor or outdoor use. This thermo-electric fridge is ultra-durable, luxurious, eco-friendly, and uses minimal power for the ultimate chill! 
Temperature:
Makeup Fridge stays at a perfect temperature of 35ºF-45ºF! 
Dimension:
It measures 13.4" H x 11.4" D x 9.6" W and weighs 7.9 lbs.
The unit is manufactured according to North American voltage specifications. Fridge ONLY works on 100-120V. The fridge will sustain damage and the warranty will not be good if the unit is plugged into a 220-230V outlet.
Shipping for Skincare Fridge is a minimum of $15 due to the size of the product.
For our cancellation and refund policy, please check out our Terms + Conditions page!
Customer Reviews
Sorry there are no reviews for your selected category yet.
Poor quality
Bought the Teami fridge and stopped working in two months
Leaks
I purchased my skin fridge in November of 2019 and I swear this thing leaks like nobody's business. I have had to put a towel under it and made sure that it has plenty of breathable space. But it doesn't stop the leaks! Checked the towel under it yesterday and it was soaked. I might as well just unplug it and if my products go bad i guess they just go bad then!
Disappointed
I haven't even had this fridge for 6 months & it stopped working. A month ago, it was making weird noises like electrical & then today it sounded like static sounds and electrical and then shut off and now won't work. I have it on my counter, in an open space and now it doesn't work! Can't believe it!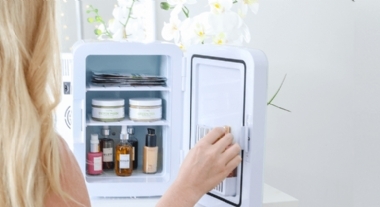 Frequently Asked Questions
Subscribe to our Newsletter
Subscribe to our newsletter and get 10% off your first purchase
IT'S NOT JUST
TEA

, IT'S A LIFESTYLE