New Year's Resolution Kit
New Year's Resolution Kit
It's time to put your wellness first in 2023! If you've been wanting to make a change toward a happier, healthier version of yourself– this is the perfect time!

Transforming your wellness doesn't have to be hard. Our goal is to support you with the exact supplements you need to reset, detox, and nourish your body from the inside out.
Our New Year's Resolution Kit includes:
30 Day Detox Program
Superfood Greens Powder
Beauty Butterfly Collagen
Wellness Plant Protein, Rich Chocolate
Gut Love Probiotics Prebiotics Powder, Triple Berry
Hydrate Electrolyte Super Mix
20oz Tea Tumbler
Tea Infuser
Total Cost: $251.90

Skinny Tea
Oolong, Yerba Mate, Lime leaf Extract, Lotus leaf, Jiao Gulan, Ginger Root & Rhubarb Root.
Colon Cleanse Tea
Senna Leaf & Root, Hawthorn Berry Extract, Lotus Leaf, Lime Leaf & Extract, Psyllium Husk Seed, Phaseolus Calcaratus Seed, Rhubarb Root, Poria Cocos Stem Bark & Valerian Root.
Superfood Greens Powder
Ceremonial Grade Matcha Powder, Wheatgrass, Spirulina, Chlorella, Chlorophyll, Spinach Leaf Powder, Broccoli Powder, Acai Berry, Kale Powder, Kelp Powder, Rocket Leaf Powder, Parsley Powder, Celery Powder, Garcinia Cambogia Extract, Dandelion Extract & Grape Seed Extract
Plant-Based Wellness Protein
Organic Teami Protein Blend (Organic Pea Protein, Organic Rice Protein), Natural Cocoa bean, Medium Chain Triglyceride (MCT oil from coconut), Natural Chocolate Flavor, Guar Gum Fiber, Stevia Leaf Extract, White Tea Extract, Calcium Phosphate, Silicon Dioxide
Beauty Butterfly Collagen
Wild Caught Marine Collagen from Codfish, Butterfly Pea Flower, Acai Berry
Gut Love
Contains seven different strains and 20 billion probiotics!
Lactococcus lactis, Bacillus subtilis DE11, Lactobacillus paracasei, Lactobacillus plantarum, Lactobacillus acidophilus, Lactobacillus rhamnosus, Lactobacillus casei
Hydrate Electrolyte Supermix
Calcium, Magnesium, Chloride (as Pink Himalayan Salt), Sodium (as Pink Himalayan Salt), Potassium, Citric Acid, Natural Flavors, Beet Root, Silica, Stevia Extract
Recommended for adults only. If you are taking prescription medication, or are pregnant or nursing, consult your health care provider prior to using this product. Every individual has their own medical and physical conditions, therefore we can not foresee any adverse reactions to our All-Natural blends.
Results are not guaranteed and may vary from person to person.
These statements have not been evaluated by the Food and Drug Administration. This product is not intended to diagnose, treat, cure, or prevent any disease.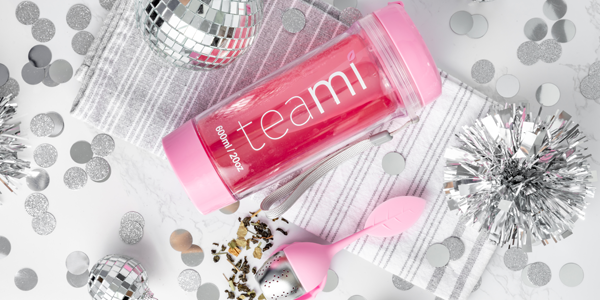 Teami's Best Kit Bundle of 2022!
I love using each item of this kit bundle! I feel amazingly light with lots of energy. I absolutely recommend this for those who would like to feel bloat-free, light, and energic. Thanks Teami!
Subscribe to our Newsletter
Subscribe to our newsletter and get 10% off your first purchase
IT'S NOT JUST
TEA

, IT'S A LIFESTYLE