Teami Matcha is a Ceremonial Grade, USDA Organic Japanese Green Tea powder that has endless health benefits. Our Matcha Starter Set includes everything you need in order to make it at home!
Studies on Matcha Green Tea have shown it to be, high in antioxidants, helps accelerate weight loss, detoxifies the body, burns calories, suppresses cravings, boosts metabolism, increases sustainable energy and focus, strengthens the immune system, & improves cholesterol.
What's Inside:
Ceremonial Grade Matcha Green Tea Powder, 1oz
Ceramic Matcha Tea Bowl, Baby Pink or Pearl White
Organic Bamboo Whisk
Ceremonial Grade Matcha Powder - Certified USDA Organic
Flavored matcha contains 3% natural fruit powder
Needed Accessories: a bamboo whisk, a tea bowl, a measuring spoon, a tea strainer, and your Teami Matcha Green Tea Powder.
For one cup, scoop 1½ teaspoons (about 2 grams) of matcha powder into your strainer.
Sift your matcha powder into your tea bowl, swirling the powder around the strainer. This will help ensure there are no clumps in your tea.
Pour boiling water (about 2 ounces) into a teacup, then let it cool down for about a minute). Carefully pour the hot water into the bowl with the matcha powder.
Use your whisk to combine your tea. Whisk for about 10–15 seconds until the tea is bright green and smooth.
Carefully pour your matcha into a teacup.
Enjoy!
You can consume Matcha Green Tea as a tea, make a latte, or add it into a smoothie! You can even use it for baking purposes!
Recommended for adults only. If you are taking prescription medication, or are pregnant or nursing, consult your health care provider prior to using this product. Every individual has their own medical and physical conditions, therefore we can not foresee any adverse reactions to our All-Natural blends.
Contains plant-based caffeine.
Results not guaranteed and may vary from person to person.
These statements have not been evaluated by the Food and Drug Administration. This product is not intended to diagnose, treat, cure, or prevent any disease.
Not exactly Ceremonial grade Matcha
I did purchase some Matcha from here when they had a sale to get two for the price of one. I know that ceremonial matcha is quite expensive for good quality Matcha as I order it often from different companies and drink it regularly. I did take care to read the size and was expecting a fairly small container. That said, I was a little disappointed with the quality. I was expecting more a vibrant green for it to be considered "ceremonial grade" instead it was a green brown. It didn't taste bitter nor was it expired so I didn't return it but I was expecting to receive a higher grade/quality than I did. From the pictures that other reviewers posted, I had expected it to be more of the vibrant green that good quality matcha usually is. I am using it in smoothies and shakes now and it is fine that way. By their own standards, this seems more culinary grade than ceremonial.
Yummie!
Made my first chocolate matcha! Ordered chocolate by mistake. I added a little chocolate/mint stevia to it and it as delicious!
Matcha tins
I was not expecting to receive such a tiny can of matcha.... very disappointed in the size! To be honest I did not even look at the ounces when I bought cause the price was 29.99 so I figured it was as big as the greens container since they are the same price won't be buying matcha from here again.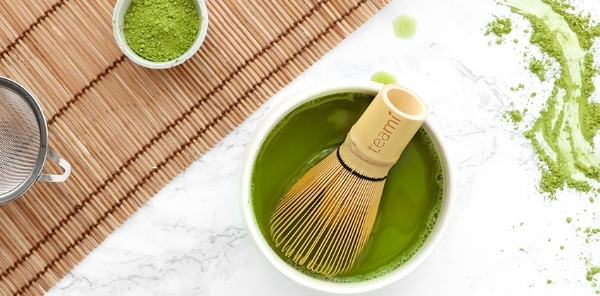 Subscribe to our Newsletter
Subscribe to our newsletter and get 10% off your first purchase
IT'S NOT JUST
TEA

, IT'S A LIFESTYLE