Detox + Digestion, Apple Cider Vinegar Gummy
Detox + Digestion, Apple Cider Vinegar Gummy
Get your daily dose of support for belly balance, gut health, and natural energy with our Teami Detox + Digestion Gummy!*
Formulated with Apple Cider Vinegar, Vitamin C, and Vitamin B12 to support daily digestion, control bloat, support immunity, and promote overall well-being!*
Teami's apple-flavored Detox + Digestion gummies are soft, delicious, vegan, sugar-free and are the perfect way to support a happy stomach and natural energy!*
Naturally Tasty: Sugar-Free Apple Flavor 
Vegan
Kosher
Gluten-Free
Sugar-Free
NON-GMO
Allergen Free
Woman Owned
30 Servings
Apple Cider Vinegar, Vitamin C, Vitamin B12, Maltitol, Pectin, Water, Citric Acid, Pomegranate Juice, Grapeseed Oil
Enjoy 2 gummies as part of your daily wellness routine! These gummies are caffeine free and you can take them at any time of day!
These statements have not been evaluated by the Food & Drug Administration. This product is not intended to diagnose, treat, cure, or prevent any disease.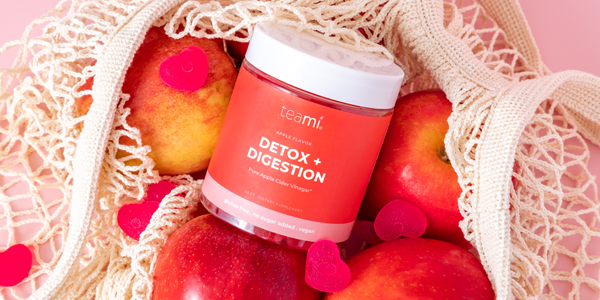 Detox digestion gummys
Been using these for 3 months now and Love these vitamins they work like a probiotic and work like a charm, they taste good too. Super happy with this product.
Love Detox Digestion gummy
I Like the taste, been using it about a week now, let's see the results later.
Subscribe to our Newsletter
Subscribe to our newsletter and get 10% off your first purchase
IT'S NOT JUST
TEA

, IT'S A LIFESTYLE