Ready to kickstart your healthy lifestyle?! We believe that maintaining a healthy gut is vital in living your happiest, healthiest life! Feeling your best truly starts from within, which is why we created this 100% natural, plant-based detoxifying cleanse!
The purpose of the 30 Day Detox program is to naturally help cleanse, reset and refresh your body in just two simple steps: 
1) Drink your Teami Skinny every morning.
2) Drink your Teami Colon every other night before bed.
This program is perfect for everyone's lifestyle, no matter where you are at in your current wellness journey! Our blends are created with the highest quality, premium loose leaf tea and lots of love to help you get the best results. 
 Our Teami 30 Day Detox Pack includes:
Teami Skinny
Teami Colon
Teami 30 Day Detox Calendar 
FREEBIE #1: You'll receive a detox accountability E-book with best detoxing tips! 
FREEBIE #2:

 

You'll receive our 23 Healthy Recipes E-book with simple, delicious recipes you can make at home!
GMO Free, Gluten Free, Dairy Free and Sugar Free!
** Are you always on the go?! Get the best results out of your detox program when you drink your Teami out of our BPA-Free Tumblers! Make sure you get one in your favorite color!  
Teami Skinny Tea:
Oolong, Yerba Mate, Lime leaf Extract, Lotus leaf, Jiao Gulan, Ginger Root & Rhubarb Root.
Teami Colon Cleanse Tea:
Senna Leaf & Root, Hawthorn Berry Extract, Lotus Leaf, Lime Leaf & Extract, Psyllium Husk Seed, Phaseolus Calcaratus Seed, Rhubarb Root, Poria Cocos Stem Bark &Valerian Root.
Step 1) Drink your Teami Skinny every morning, recommended before breakfast
*Forgot to drink your Teami Skinny in the morning? Don't Stress! Just drink it as early as you can!
Step 2) Drink your Teami Colon every other night before bed
*Steep for 1-5 minutes in hot water then remove from mug. Gradually increase your steep time throughout your 30 Day Detox Program!
Recommended for adults only. If you are taking prescription medication, or are pregnant or nursing, consult your health care provider prior to using this product. Every individual has their own medical and physical conditions, therefore we can not foresee any adverse reactions to our All-Natural blends.
Contains plant-based caffeine.
Results not guaranteed and may vary from person to person.
These statements have not been evaluated by the Food and Drug Administration. This product is not intended to diagnose, treat, cure, or prevent any disease.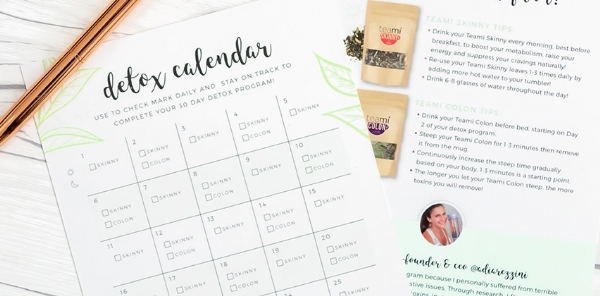 30 day detox
I feel great! No more bloat,been using it for two weeks! I recommend the detox all day!
This is a GAME CHANGER
I was desperately searching bloating and constipation solutions because I've struggled with severe constipation and bloating my whole life. I've wasted tons of money on products that don't work and "detoxes" that gave me terrible cramps. I figured I have nothing left to lose when I stumbled across Teami detox program. Surprisingly I stuck to the 30 days and let me tell you - I feel like a new woman!
The skinny tea gives me incredible energy throughout the day and I noticed I don't have the usual mid-day crash that makes it difficult to finish work. The colon tea took about two weeks to really kick in, but I was definitely going to the bathroom more often than I was before. I've noticed a significant decrease in bloating - I no longer look like I'm pregnant and I also noticed I didn't have bad cramps during my menstrual cycle!! I feel like my waistline is smaller and I don't need to suck in my stomach as much. I already re-ordered and I can't wait to see how the next 30 days look like!
TEAMI WORKS!
I've been on my Detox for 2 weeks now.. My stomach is starting to disappear LOL!!!
I definitely see a difference.
Subscribe to our Newsletter
Subscribe to our newsletter and get 10% off your first purchase
IT'S NOT JUST
TEA

, IT'S A LIFESTYLE