Superfood Moisturizer, Lightweight Daily Cream
Subscription Benefits
Save $ on every order
Skip orders anytime
Customize your order
Earn 2x Rewards Points
Teami Superfood Moisturizer is a lightweight daily cream that leaves skin feeling hydrated, but never greasy, sticky or oily! Created with antioxidant superfood ingredients bursting with phytonutrients to support moisturized, nourished and balanced skin all day long.
Formulated for instant absorption, never leaving a tacky or shiny layer on your skin!
Superfood Ingredients:
Matcha Green Tea: powerful, skin boosting antioxidant, containing holistic skin calming properties
Olive Derived Squalane: anti-aging hero superfood, squalane balances oil and controls shine while providing healthy hydration to skin.
Avocado: contains a high percentage of Vitamin A, D and E, potassium + lecithin that can nourish and moisturize the skin. The outermost layer of skin (known as the epidermis) easily absorbs these nutrients naturally.
Hemp: moisturizes without clogging pores or adding shine.
Sodium PCA (Derived from Fruits + Coconut Oil): a natural component of skin, PCA is a hydrating, skin-replenishing ingredient that can hold up to roughly 250 times its weight in water to improve the appearance of dehydrated, mature skin.
Deeply hydrating with an airy, lightweight texture to powerfully hydrate, plump and smooth skin.
Most moisturizers are created with artificial chemicals, silicones, synthetic fragrances and ingredients that do not absorb into the skin naturally - which can leave your skin greasy, oily, shiny and tacky! We set out to create the most natural, yet effective moisturizer on the market that actually WORKS!
Formulated for all skin types: Oily Skin, Sensitive Skin, Dull Skin, Combination Skin, Dry Skin, Acne Prone Skin, Irritated Skin, and Normal Skin
Our Promise: 100% Natural, Non-Comedogenic Formula, Vegan, Certified Cruelty Free, Non-GMO, Made in Florida
Made without: Silicones, Alcohol, Parabens, Phthalates, Synthetic Dyes, Artificial Fragrance, Harmful Chemicals
*Organic Aloe Barbadensis Leaf Juice, Matcha Tea, Kosher Vegetable Glycerin, Cetearyl Olivate, Sorbitan Olivate, *Shea Nut Butter Virgin Organic, *Hemp Seed Oil Virgin Organic, Cetyl Esters, *Sunflower Oil Organic, Avocado Extract, Pomegranate Seed Oil Virgin, Squalene Oil, Sodium PCA, d-Alpha Tocopheryl Acetate (Vitamin E), Xanthan Gum, Phenoxyethanol, Ethylhexylglycerin, Yellow Iron Oxide, Chromium Green Oxide, Zinc Oxide, Orange Essential Oil, Lemon Essential Oil, Lime Essential Oil, Ginger Essential Oil, Clary Sage Essential Oil
*Organic Ingredients
Apply to clean face & neck, while avoiding direct contact with eyes. Use in your daily AM / PM skincare routine.
These statements have not been evaluated by the Food and Drug Administration. This product is not intended to diagnose, treat, cure, or prevent any disease.
Customer Reviews
Sorry there are no reviews for your selected category yet.
The best moisturizer
I just received my teami moisturizer 2 days ago and I immediately used it. It works well for me. I always have this dry skin in my chin area every cold season. I tried different moisturizers already but none of them worked. I finally found my match. It feels light in the skin also. I can feel that my skin is fully moisturized. I have waited for this product for a long time. This is highly recommended 👍
Not good
I have sensitive skin and figured sense I was using the super greens cleaners and detox mask to try this moisturizer out.
It made my skin dry and flaky to the point that it left my skin raw. Now it looks like i got sun burnt around my cheeks and nose. Disappointed in the product.
I am so sad to hear you you didn't see the results you were looking for with your Moisturizer. We created our products to be 100% all-natural and not full of any chemicals or harsh ingredients, but this still could not work for everyone. Everyone has different skin types that are completely unique to them so not all products will fit their needs for their skin.
Amazing
AMAZING! Moisturizer is light and don't leave your face greasy. Love it. I have been waiting for this moisturizer worth the wait.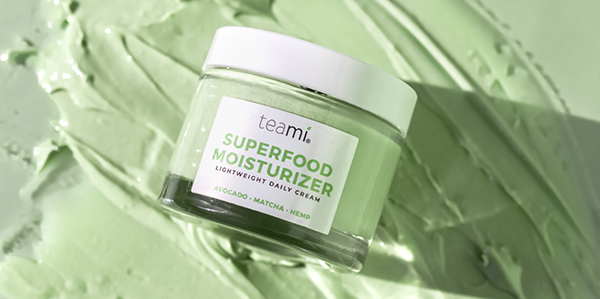 Subscribe to our Newsletter
Subscribe to our newsletter and get 10% off your first purchase
IT'S NOT JUST
TEA

, IT'S A LIFESTYLE