Teami MIXit, 30 Second Portable Smoothie Blender
Living a healthy lifestyle just got SO MUCH EASIER!
Let's be real, life is BUSY no matter what type of schedule you have! Whether you are a career professional, mama bear, student or a wellness advocate, you are always on the GO!
We understand that living a healthy, balanced lifestyle while also being a busy bee / multi-tasker can be challenging- which is why we spent over 12 months perfecting our new Teami MIXit Portable Smoothie Blender! 
The Teami MIXit is a USB rechargeable portable smoothie blender that allows you to make and take your smoothies + juice on the go! Just one press of a button and you'll get your nutritious superfood smoothie in just 30 seconds! No mess, no spill and no need to plug into a power outlet! Convenient, cute and perfect for a busy, healthy lifestyle! 
A few reasons our Teami MIXit is so special: 
18.6 OZ (550ml) Durable Glass Cup. (Yes, it's GLASS baby, not flimsy plastic!!)
6 Powerful Stainless Steel Blades for smooth blend. 
Convenient Sport Top 
Comfortable Rubber Strap for easy carry
Blends Fruits, Herbs, Powders, Veggies and Ice
Perfect for smoothies, protein shakes, juice and baby food
Easy Cleaning - every part of our Teami MIXit is disassembled . Each piece disassembles for easy cleaning
FREE Ebook of 20+ Healthy Smoothie Recipes sent to your email after you order!
2 cute colors to choose from- Baby Pink + Black!
It's time to invest in YOUR health! We are excited to be part of your wellness journey with our Teami MIXit! We can not wait to see you making healthy superfood smoothies and beverages on the go! Share your journey with us on social media! @teamiblends #thankyouteami #teamimixit
If you have any questions about how to use your Teami MIXit, please email us service@teamiblends.com - we would be happy to help you!
Do not use Teami MIXit while it is charging.
Do not place the electrical bottom connector into the water during cleaning. This part does not need to be cleaned, make sure it is set aside!
Do not place the MIXit under heavy load to prevent overheating of electronic components, which may lead to lifetime reduction of this product.
Do not operate or attach the blade section to the main unit without the glass attachment.

My partner in crime!
Loving it .. since day 1️⃣⬅️⬅️⬅️⬅️
A treat anywhere at anytime!
I purchased this portable MixIt blender about a week ago and I've used it everyday twice a day since! It's so convenient and easy to use. I can store my fruit in the 18 Oz storage container until I'm ready to mix and blend it! It's great to combine with the Restore and Greens powder blends. I also add chia and flax seeds and it always a great taste! I recommend this product to anyone who enjoys smoothies and tends to buy one from a store. Save some money and invest in yourself!
I love it!
I'm love it , omg so easy to use and I love that's you can't take it anywhere you go!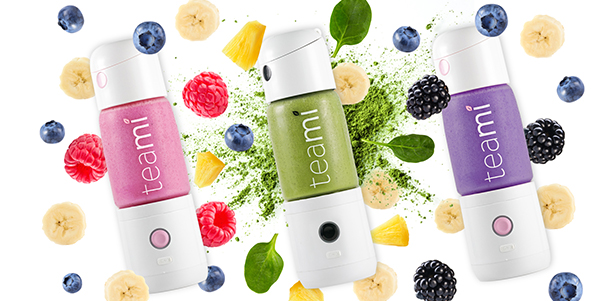 Frequently Asked Questions
Subscribe to our Newsletter
Subscribe to our newsletter and get 10% off your first purchase
IT'S NOT JUST
TEA

, IT'S A LIFESTYLE