Our box, YOUR LIFESTYLE!
It's finally back and believe us, the wait has been so worth it. Introducing our Limited Edition LifeBox, SUMMER EDITION!
A thoughtfully curated box of MYSTERY, full-sized Teami products at a total value of $170! Each box includes both wellness and natural skincare must-haves to help support your healthiest, happiest Summer yet! 
Here's how it works:
We created our Teami Lifebox to help you discover new wellness and natural skincare products in a FUN way, while also saving you some $ in your bank account!
Plus, our Lifebox will include a NEW Teami product!
What you get:
$170 in Full Size Teami Products for $69.99!
$100 in SAVINGS!
*This is not a subscription box! You will not be auto-charged or put on a subscription. Just HUGE savings!* 
WARNING: Limited Quantities are available of our SummerLifebox and it will disappear from the website once we are sold out! If you want to save $100 on products, make sure you get it before it sells out!
*You can not return your Lifebox if you have opened the products inside.
*You can not return individual products from your Lifebox, if you wish to return your Lifebox you must return the entire box with all items unopened.
Life Box
So excited to get the Life Box. My very first order from Teami. Super excited to have gotten a tumbler in my favorite color purple. Also recieved Butterfly Collagen, along with Alive tea, vitamin C and aloe. Can't wait to add these to my daily routine.
Pleasantly surprised
I got my Summer Lifebox this weekend- my first one from Teami- and I love it. Although I wasn't super crazy about everything in the box at first, I actually love it now. The Aloe- which I thought would be the least useful thing in the box- was a life savior. My son has extremely sensitive skin and he had a reaction to something, I read somewhere that Aloe is good for calming skin irritation. Sure enough I put some on him before bedtime and he woke up with visibly calmer skin and he wasn't itchy anymore- and that was just one application. Definitely worth the buy off that alone. My box also had the Supergreens and Vitamin C. I love the smell of the Vitamin C serum and the Konjac sponge makes my face feel super smooth.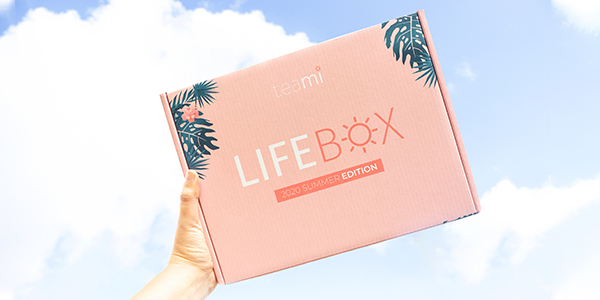 Frequently Asked Questions
Subscribe to our Newsletter
Subscribe to our newsletter and get 10% off your first purchase
IT'S NOT JUST
TEA

, IT'S A LIFESTYLE